Weekend Update: Fagen, Gilmour, Zep, Radiohead

Can't find some prominent music releases on MVI, Blu-ray, HD DVD, and CD that we previewed recently? The dates, they keep a-changin':

Donald Fagen: Nightfly Trilogy (Reprise/ Rhino). Originally conceived as a three-MVI set for release on June 5 before it was moved to June 26, July 10, and then put "on hold," this box is now scheduled for November 20 and will include seven discs: The Nightfly, Kamakiriad, and Morph the Cat each on CD and MVI, plus a CD of bonus tracks. The MVIs feature the surround mixes previously released on DVD-Audio discs, though now they're in Dolby Digital and DTS 5.1. (You also get each album in so-called "Advanced Resolution PCM Stereo": 48 kHz, 24 bits.) But talk about redundant: Not only does this box have a CD+MVI for each album (which goes against the original idea of MVI being a standalone format), but the "bonus" CD is just the same 10 tracks that appear as extras on the MVIs.
David Gilmour: Remember That Night: Live at the Royal Albert Hall (Columbia Music Video). Whereas the standard DVD was indeed was released on September 18, the Blu-ray Disc edition - originally scheduled for October 2 - will now appear on November 20. Note: The supposed HD DVD edition seems to have disappeared. Although it was in fact officially announced, it never appeared on the corporate B2B site of Sony (which doesn't support HD DVD anyway), I could never get any info from the label, and there's no mention of it on Gilmour's site.

Led Zeppelin: The Song Remains the Same (Warner Home Video). The standard DVD set is still planned for November 20, but the Blu-ray and HD DVD editions have been bumped to December 11. The band's reunion at the Ahmet Ertegun Tribute Concert has been bumped as well, from November 26 to December 10. Seems that Jimmy Page "fractured" a finger! Says a medical specialist: "I have examined the fracture to Mr. Page's finger, and it is my opinion that with proper rest and treatment, he will be ready to resume rehearsing in 3 weeks' time, and thus be able to perform on December 10." Says Page: "I am disappointed that we are forced to postpone the concert by 2 weeks. However, Led Zeppelin have always set very high standards for ourselves, and we feel that this postponement will enable my injury to properly heal and permit us to perform at the level that both the band and our fans have always been accustomed to." Hmmm. Seems that Page doesn't always set very high standards for taking care of himself before the single most anticipated concert since EVER. How the hell did he fracture his finger anyway? Climbing the same tree that ejected Keith Richards?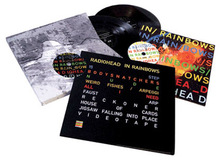 Radiohead: In Rainbows (Side One/ATO). Yes, all indications now point to the band's new album - previously available only via download (or in the boxed set shown here, shipping December 3) - will be released on a standalone single CD on the interesting date of December 31.
Meanwhile, speaking of updates: How did that "set your own price" download go? According to digital measurement group comScore.com, of all the people who downloaded the album, 17% paid less than $4, 6% paid between $4 and $8, 12% paid between $8 and $12, and 4% paid more. But the real news comes when you add up those percentages: 39% paid something. Which, in turn, means that a whopping 61% paid nothing.
A representative for the band called those figures "wholly inaccurate," saying that they "in no way reflect definitive market intelligence or, indeed, the true success of the project. The group's representatives would like to remind people that, as the album could only be downloaded from the band's Web site, it is impossible for outside organizations to have accurate figures on sales."
That may be, but if the figures are even sorta close to accurate . . . well, as Union Square Ventures' Fred Wilson says, "This shows pretty conclusively that the majority of music consumers felt that digital recorded music should be free and is not worth paying for." As I have lamented before: So much for the value of music itself. -Ken Richardson
LATEST VIDEO