This Week New Movies for January 15th 2013: Woody, Hitch, & Ford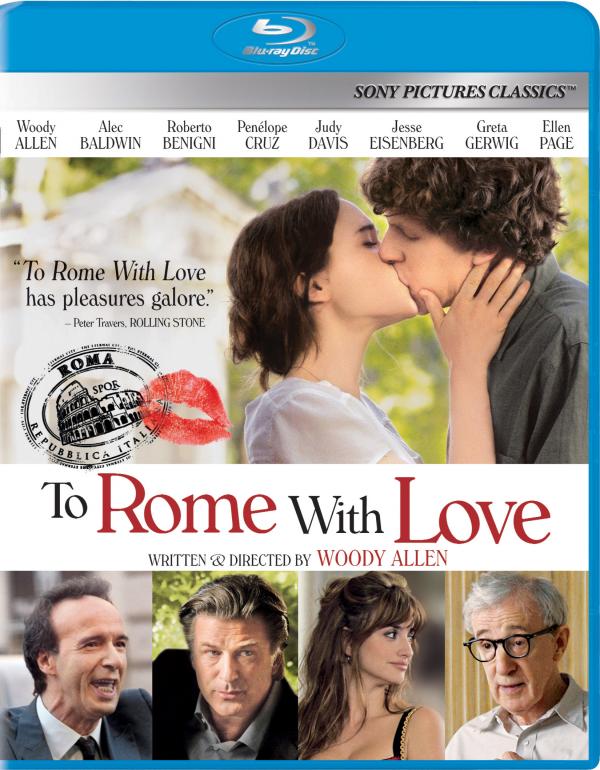 To Rome With Love
Sleeper
Hannah and Her Sisters
With his latest comedy To Rome With Love, Woody Allen's interweaves a series of unconnected characters' stories set in the "The Eternal City" into a magic-realist tapestry.
A famous American architect (Alec Baldwin) reliving his youth by revisiting the city he'd spent a year in meets a young architect student (Jesse Eisenberg), -probably his youthful self - who falls for the friend (Ellen Page) of his girlfriend (Greta Gerwig) despite the architect's warnings. A dull Roman bureaucrat (Roberto Benigni) suddenly finds himself a celebrity, put on talk shows and chased by the paparazzi and autograph hunters for no good reason. A young couple from the provinces each get involved in a separate sexual encounter, she with an adored actor, he with a beautiful prostitute (Penélope Cruz). An American avant-garde opera director (Allen) visiting his daughter (Alison Pill) with his wife (Judy Davis) tries to promote a singing mortician who can only perform in the shower.
In the process of making this movie, Allen pays tribute to his beloved hero Federico Fellini with quotes from The White Sheik, Amarcord, Fellini's Roma, 8½, La Dolce Vita, and other masterpieces of Italian Cinema. Unfortunately, Allen's script isn't always up to the task, a little thin at times, with too many scenes of unconvincing improvised dialogue. Nonetheless, the proceedings are fairly entertaining anyway.
The visuals of Love are also not up to the best of either master in terms of composition, but they are rather beautiful in a gently lit and softly focused golden-glow way. There's a wide range of often-muted colors, though occasionally Cruz's bright red hooker outfit and Page's rouged lips add splashes of rich primary and there's deep blacks throughout. Detail is fair when visible through the romantic haze of flat, even lighting with patterns in furniture and clothing and faults in faces visible.
The kitschy songs - "Volare," "Arrivederci Roma," "Amada Mia, Amore Mio" - on the DTS-HD Master Audio 5.1 soundtracks aren't that inspired or inspiring either and, since Allen likes to work in mono, there's not much action around the soundstage, virtually no atmospherics or music in the surrounds, and little separation across the front. Voices are clear even in the many Italian language scenes.
Two other Allen film are coming out this week, Sleeper (1973) and Hannah and Her Sisters (1986).
Sleeper, one of Allen's early "funnier films" that focus more on gags then deep meaning, is a laugh-packed, sci-fi comedy which, although set in the future, makes extensive use of slapstick-style humor.
Awaking from cryogenic suspension after 200 years, Miles Monroe (Allen), the owner of a health food store in 1973, must deal with the shock of the new - cloning, the hipoisie (one of whom is Diane Keaton), robot butlers, giant fruit, the orgasmatron, and other goofy or ineffectual technology - as well as the totalitarian society, revolutionaries, and being on the run as a wanted criminal.
Luna Schlosser: "It's hard to believe that you haven't had sex for 200 years."
Miles Monroe: "204, if you count my marriage."
Hannah and Her Sisters was nominated for seven Oscars including Best Director and Best Picture, winning for Best Screenplay (Allen), Best Supporting Actor (Michael Caine), and Best Supporting Actress (Dianne Wiest). It's a classic Allen film made at the height of his artistic powers and ambitions and was consequentially highly popular with fans and critics alike.
Hannah (Mia Farrow), the oldest of three sisters, daughters of bickering show-biz parents (Maureen O'Sullivan and Lloyd Nolan) is a devoted wife and loving mother, successful actress, and all-round overachiever. She even helps support - emotionally and financially - her sisters, Lee (Barbara Hershey) and Holly (Dianne Wiest), each of whom can't seem to settle on a career or a man. All Hannah's perfection and capability, though, leads to her siblings' resentment of her. Even her own husband Elliot (Michael Caine) is frustrated with her not needing him and begins to look elsewhere for appreciation and intimacy. Gradually Hannah begins to realize that her life is actually as mixed up as her sisters.
The film has cinematography by Carlo Di Palma and co-stars Max von Sydow, Carrie Fisher, John Turturro, Bobby Short, Tony Roberts, Sam Waterston, and Julia Louis-Dreyfus with Allen himself providing hilarious scenes as Hannah's ex-husband.
Included in the video release of To Rome With Love, a Woody Allen film, is - gasp - an extra!
Love,Video: 1.85:1. Audio: DTS-HD Master Audio 5.1. Extras: "Con Amore: A Passion for Rome" featurette. Studio: Sony. Sleeper and Sisters, Video: 1.85:1. Audio: DTS-HD Master Audio 1.0. Extras: none. Studio: MGM.
Taken 2
Just when you thought you were safe from snatchers . . . retired CIA operative Bryan Mills (Liam Neeson) and his wife (Famke Janssen) are taken hostage in Istanbul by Murad (Rade Serbedzija), the vengeful father of the Albanian kidnapper whom Mills had electrocuted in the first film in the process of saving his daughter. This sequel to balls-to-the-wall action movie, Taken, has the switcheroo of daughter, Kim (Maggie Grace), having to rescue the parents who once rescued her.
Taken 2 is based on a script by Luc Besson (The Fifth Element, Léon: The Professional, La Femme Nikita, Subway) and Robert Mark Kamen (The Karate Kid, The Fifth Element, Gladiator) and directed by Olivier Megaton (The Red Siren, Colombiana,Transporter 3). It grossed $365,660,153 in worldwide box office: Taken 3 is on the way.
The set comes with both the unrated and theatrical cuts of the film.
Video: 2.35:1. Audio: DTS-HD Master Audio 5.1. Extras: "Black Ops Field Manual and Kill Counter," "Tools of the Trade," and "FX Piece" featurettes, deleted and extended scenes, alternative ending; DVD, and UltraViolet digital copy for streaming/downloading. Studio: 20th Century Fox.
The Man Who Knew Too Much
A holiday in St. Moritz, Switzerland becomes a nightmare for English couple Bob and Jill who, having got mixed up in international intrigue, have their daughter abducted to keep the parents quiet about a planned assassination. With The Man Who Knew Too Much (1934), Master of Suspense Alfred Hitchcock finally showed the level of his brilliance as a filmmaker by creating such a gripping yet amusing and colorful thriller as this tense early film out of such simple fare, on a shoestring budget, and only a tight 75 minutes running time - a far cry from the lush and leisurely 120-minute big-Hollywood Technicolor remake he shot in 1956 with James Stewart, Doris Day, Bernard Miles, and Brenda de Banzie. After hitting his stride with this his 19th film, thereafter he continued on a roll, making in quick succession The 39 Steps (1935), Secret Agent (1936), Sabotage (1936), Young and Innocent (aka The Girl Was Young, 1937), The Lady Vanishes (1938),Jamaica Inn (1939), Rebecca (1939), and Foreign Correspondent (1940).
For German actor Peter Lorre - playing the leader of the anarchists who are attempting to spark an international conflict through the assassination - the role was made harder by the fact that he spoke no English and had to learn his lines phonetically. Pierre Fresnay plays the Frenchman who, after he's shot, tells Bob of the message hidden in his room that the anarchists are trying to suppress. Leslie Banks and Edna Best play the couple who then have to wrestle with the choice they're forced to make between patriotic duty and parental instincts, to find a way to rescue their child, and then thwart the villains' plot in the memorable Royal Albert Hall concert scene.
The Man Who Knew Too Much was shot by the great German cinematographer Curt Courant (La Bête Humaine, The Shanghai Drama, Woman In the Moon). This new high-definition digital restoration with uncompressed monaural soundtrack is accompanied by a collection of treasures on The Master including excerpts from François Truffaut's legendary 1962 interviews with Hitchcock.
Video: 1.33:1. Audio: LPCM Mono. Extras: new commentary by film historian Philip Kemp, new interview with filmmaker Guillermo del Toro, "The Illustrated Hitchcock" interview with the director from 1972 by journalist Pia Lindstrom and film historian William Everson, audio excerpts from filmmaker François Truffaut's legendary 1962 interviews with Hitchcock, restoration demonstration, 20-page booklet featuring an essay by critic Farran Smith Nehme. Studio: The Criterion Collection.
The Tin Drum
Director Volker Schlöndorf's celebrated 1979 film adaptation of Nobel laureate Günter Grass's acclaimed 1959 novelThe Tin Drum, set in Danzig in East Prussia in the early-1920s, centers on Oskar Matzerath (David Bennent), a child born with an adult-like understanding of the world who observes how grown-ups are disgustingly selfish and hypocritical, and decides to stop growing up by the age of three. On his third birthday he is given a tin drum and Oskar hurls himself down the cellar stairs, injuring himself, and sure enough, from then on he never grows any older.
Years pass and signs of rising Nazi power are all around with beatings of Jews and burning of synagogues by SA troops and the general rising of tensions between the city's rival Polish and German populations. While the world lurches towards the madness and chaos of the inevitable coming war, Oskar is constantly banging away at his drum, drowning out the sounds he hates - like his mother (Angela Winkler) cheating with the Polish boarder - and shrieking so high and piercing that it shatters glass. He uses this and his hypnotic pounding to cause disruption whenever he gets upset, such as at a local Nazi rally. This absurdist, symbolic, and surreal film is black tragi-comedy of historic proportions.
The Tin Drum won the Palme d'Or at Cannes and the Oscar for Best Foreign-Language Film. This 163-minute director's cut here has all the footage that was edited out for the theatrical release replaced. The completed restoration transfer from a 35mm interpositive struck from the original camera negative and the newly remastered 5.1 surround soundtrack were both approved by Schlöndorff.
Video: 1.66:1. Audio: German DTS-HD Master Audio 5.1. Extras: new interview with Schlöndorff about the making of The Tin Drum and the creation of the 2010 restored director's cut, new interview with film scholar Timothy Corrigan, German audio recording from 1987 of Günter Grass reading an excerpt from The Tin Drum with musical accompaniment illustrated with the corresponding scene from the film, television interview excerpts featuring Schlöndorff, Grass, actors Bennent and Mario Adorf, and cowriter Jean-Claude Carrière, booklet featuring an essay by critic Michael Atkinson and 1978 statements by Grass about the adaptation of his novel. Studio: The Criterion Collection.
House of Cards Trilogy
The three-disc set of the House of Cards Trilogy contains all three parts of the hit, critically acclaimed English TV serial drama - House of Cards (1990), To Play the King (1993), and The Final Cut (1995) - starring a wonderfully wicked Ian Richardson. In the brilliantly blunt and fascinating exposure of out-of-control ambition, two-facedness, and greed in the governmental corridors of power, Richardson plays manipulative, Machiavellian Tory Chief Whip Francis Urquhart, a man who schemes to make sure his star will continue rising all the way to the top. A thrilling mixture of Iago, Macbeth, and Richard III, Urquhart is jealous, covetous, and contemptuous as he maneuvers to get ahead in the power vacuum left in the Conservative Party by the fall of Margaret Thatcher using any means necessary - including seduction and murder.
The House of Cards Trilogy was adapted for the screen from three Michael Dobbs novels by Andrew Davies and was directed by Paul Seed and Mike Vardy. Richardson's co-stars include Susan Harker, Miles Anderson, Alphonsia Emmanuel, Malcolm Tierney, and Diane Fletcher.
The series has been remade by Netflix and will be available from February 1st. Its set in Washington and has an American cast led by Kevin Spacey, but it is produced and directed by David Fincher, so there's still the possibility that it could be equally as subtle, dazzling, and delicious as the original. But I won't be holding my baited breath.
Video: 1.33:1. Audio: TBA. Extras: commentary for Episode 1 of each season with Andrew Davies and star Ian Richardson, Andrew Davies on "To Play The King" controversy, "TBC: Westminster Behind Closed Doors With Tony Benn" featurette. Studio: BBC.
How Green Was My Valley
"I am packing my belongings in the shawl my mother used to wear when she went to the market. And I'm going from my valley. And this time, I shall never return." So startsHow Green Was My Valley (1941), winner of five Academy Awards, including Best Picture, beating out Citizen Kane, The Maltese Falcon, Suspicion, Sergeant York, Here Comes Mr. Jordan, and The Little Foxes. Produced by Darryl F. Zanuck and directed by John Ford from a novel by Richard Llewellyn, it also won for Best Director, Best Black-and-White Cinematography (Arthur C. Miller), Best Actor in a Supporting Role (Donald Crisp), Best Black-and-White Art Direction-Interior Decoration (Richard Day, Nathan Juran, and Thomas Little).
Ford's classic tale is told by 60 year-old Huw Morgan reminiscing on his childhood spent in a turn-of-the-century Welsh mining village with his devoted parents and five brothers as seen through the eyes of the young Huw (Roddy McDowall), covering their everyday struggles, and the ups and downs of the small local close-knit valley community and the warm, loving, and hard-working Morgan family as both start to disintegrate in the face of economic pressures and a passing way of life.
The great cast includes Crisp, Walter Pidgeon, Maureen O'Hara, Anna Lee, John Pichel, and is narrated by Irving Pichel.
In 1990, How Green Was My Valley was selected by the Library of Congress for preservation in the United States National Film registry as being "culturally, historically, or aesthetically significant."
Video: 1.37:1. Audio: DTS-HD Master Audio 5.1. Extras: commentary by film historian Joseph McBride and star Lee on hand as well, episode of AMC Backstory, still photos. Studio: 20th Century Fox.
LATEST VIDEO