This Week in Music, April 9, 2013: Paramore is less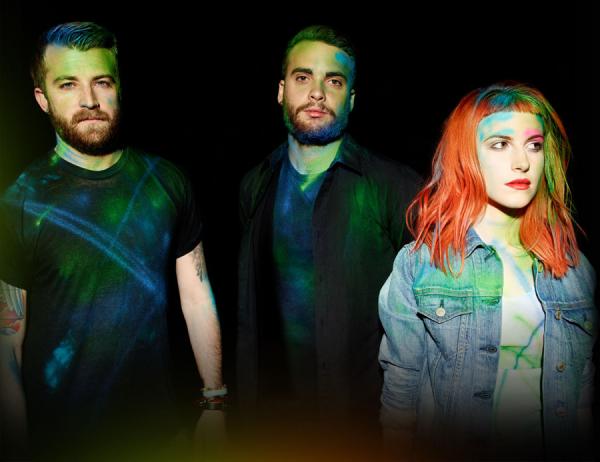 Paramore: Paramore
New release (Fueled by Ramen; tour dates)
I'll never forget my first encounter with Paramore. It wasn't at a gig or on the radio. It came in the pages of a magazine: a backstage photo taken around the time of 2007's Riot! And I have to be honest: My focus wasn't on the band but on its singer, Hayley Williams. Underneath that flame of orange-red hair, with her head cocked elatedly to the side, she was laughing as if there was no tomorrow. Now that's rock & roll, I thought, wondering if she (um, the band) sounded as full of youthful excitement as she looked.
She (and they) did, 6 years ago. Problem is, there are tomorrows, and rock & roll has a nasty habit of eating its young. What this meant for Paramore was that brothers/co-founders Josh and Zac Farro left in 2010, on somewhat amicable terms (according to a statement on the band's site) or certainly not (according to a follow-up statement by the Farros).
Today, Williams & Co. are soldiering on as a trio, with Jeremy Davis still on bass and Taylor York assuming Josh's lead-guitar slot in addition to his own rhythm role (but with no one filling Zac's drum stool, which is borrowed here by York and guest Ilan Rubin). And, yes, they're still a band, they say; hence the decision to name their new album Paramore. According to yet another statement, their aim is true: "To show people that you can lose battles but come back and win full-on wars. You can rise from ashes. You can make something out of even less than nothing. The only thing you have to do is keep moving forward!"
In case you didn't get the point, the album opens with Williams declaring that they're driving "Fast in My Car," leaving all that nastiness behind: "We only see what's in front of us / We only see straight ahead." The album ends with her thinking of the "Future," insisting, "We don't talk about the past."
Methinks the lady doth protest too much. "Moving forward"? Here's what Williams sings on "Interlude (Moving On)": "Let 'em soak in the sun / Sit back and let 'em have their fun / Let 'em spill their guts / Cuz one day they're gonna slip on 'em." She immediately tries to temper this by singing, "Well, I could be angry, but you're not worth the fight" — yet in the wake of the way she spat out the word guts, there's no denying the continuing fury of a frontwoman scorned. Or, as she contradicts herself on "Interlude (I'm Not Angry Anymore)," trying but failing to hide it in a joke: "It depends on the day / The extent of all my worthless rage."
Phew. All of this is rather grim. Still . . . okay, fine, there have been breakup albums of all sorts before, many of them stimulating. So if the music of Paramore can cut it, then by all means, bring on the bile!
Ah . . . no such luck. Despite the band's claim that this new beginning "allowed us the freedom to explore new territory artistically and to liberate ourselves as musicians," the sound of Paramore is the sound of [insert any generic postgrunge purveyor here]. In cahoots with producer Justin Meldal-Johnson, the band has stripped nearly all the joie de vivre from its onetime pop-spunk attitude, resorting to midtempo, sludgy riffing. Occasionally, things loosen up with verses that are spiky (first single "Now") or spiffy (second single "Still Into You"), but then comes the heavy hand of the chorus and we're back in the land of the ordinary. And although the entire track of "Grow Up" tries to be elastic, it's hampered by the thick sonics. Most telling, the nearly 8-minute "Future," which begins interestingly as a bit of a muse, ends with a repeated bludgeoning.
All told, Paramore suffers from the absence of Josh's catchy pen and Zac's nimble percussion. It also suffers from the presence of too many tracks: At 64 minutes, it's about 20 minutes too long.
Supposedly inspirational song title: "Ain't It Fun." When I think back to that old magazine photo and then see the cover of this album, with a morose Williams shifting her eyes warily to the side, all I can say is: Fun, it ain't. What a shame.
John Medeski: A Different Time
New release (OKeh/Sony; tour dates)
Photo by Michael Bloom
You might think there's a lot riding on this album, being the first release under the revived imprint of the historic jazz label OKeh. Accordingly, you might think John Medeski would bring his Hammond B3 organ and his wide assortment of other electronic keyboards for a big, guest-filled blowout resembling Medeski Martin & Wood and how.
Think again. A Different Time finds Medeski on a completely divergent road, making a solo-acoustic-piano recording that is the very definition of pensive. The first three tracks set the tone: Whether it's the tentative toe-dipping he offers in his title song, the gentle lyricism he draws from Willie Nelson's "I'm Falling in Love Again," or the tonal colors he splashes over the traditional spiritual "His Eye Is on the Sparrow," Medeski is ever thoughtful, as if reflecting calmly on each note he plays.
The remaining six tracks are all originals, and two of them have Medeski looking back, to the attractive, descending melody of "Otis" (a composition that originally appeared on Notes from the Underground, MMJ's 1992 debut) and the sweetly innocent tune of "Waiting at the Gate" (from a musical that he wrote in his teens). But the most affecting pieces are "Luz Marina" and "Graveyard Fields." The first is a solemn reverie, written for the late founder of a Peruvian orphanage (and named for her first adopted child). The second is a three-layered marvel, with high figures spilling above stately middle themes and a constant burble below — all describing the changing elevation of a real vista that, far from being a cemetery, is actually a pastoral valley in the Blue Ridge Mountains.
The album's subtle sound derives not only from Medeski's touch but also from his choice of piano. He had already done some recordings on a 9-foot Steinway Concert D when producer Henry Hirsch suggested he try the other acoustic piano on hand: a 7-foot Gaveau, a French instrument made in a premodern style. The intimacy of the Gaveau fits perfectly with the album's placid mood.
That mood was also enhanced by the recording venue itself: Waterfront Studios, built in a restored 19th-century church in New York's Hudson Valley. Then there was the different time of the sessions: late at night. In his liner notes, Medeski advises that we, too, should wait until deep dark for listening, "when social responsibilities are over, when the political questions of the day have been dealt with . . . when all needs and wants have been put to momentary rest . . . when you are tired of words, and you are ready to yield to the sounds of these simple contemplations."
That's how I heard the album, close to midnight, all computers and cellphones off, as I took notes with pen on pad. I was in my listening room, not on a gadget — because, as Medeski reminds us, "There was a time when people used to sit down and listen to music, when it wasn't just the soundtrack of your life . . . when we, as human beings, really got lost in the sound."
Something tells me your own audio system has been waiting patiently for a night like that. Go on, take this album there, listen, and get lost. It'll make all the difference.
Todd Rundgren: State
New release (Esoteric Antenna/Cherry Red; U.K. import; tour dates)
Photo courtesy of Esoteric
Listening room? Audio system? Sound quality? If he read what I just wrote above, Todd Rundgren would likely accuse me of being all warm and fuzzy.
Here, after all, is what he recently told an interviewer at classicrockrevisited.com: "I don't think, at any point, I ever saw sound as a fixed thing. I saw it as an important component, but I didn't think there was a way that things had to sound. Quite obviously, most listeners don't either. It is impossible to control the circumstance under which someone listens to your music. It has never been more impossible than it is now. You've got half the people using ten-dollar earbuds that came with their player. You've got others who have 5,000 watts of bottom end in their car so you can hear them coming from a mile off. The whole idea that there is one way that sound should be has lost its potency, and it is not even an argument that I care to get into."
Well, we could have that argument all day. . . .
As for the music of State, are we talking Todd Is God or excessively odd? The likely answer, as usual: something in between. I wasn't able to preview the album, but a press release says that, despite the acoustic guitar he's shown wielding above, "Todd's latest musical vision is a contemporary fusion of rock, soul, and electronica." Apparently, the last of those three genres gets the most emphasis, with Rundgren having been inspired by checking out current-version practitioners like Skrillex and David Tipper. Meanwhile, on the Deluxe Edition's bonus CD of a 2012 Amsterdam concert, Rundgren and the Metropole Orchestra perform symphonic arrangements of songs going all the way back to "Can We Still Be Friends," "Hello It's Me," and "We Gotta Get You a Woman."
James Blake: Overgrown
New release (Atlas/Republic; tour dates)
Photo by Esther Teichmann
If Todd Rundgren is indeed attempting "a contemporary fusion" of elements including soul and electronica, he might have added James Blake to his list of inspirations. The London-born singer/writer/producer's self-titled debut was nominated for Britain's prestigious Mercury Prize in 2011. This is the follow-up, with guest collaborators including Brian Eno and RZA.
LATEST VIDEO