This Week in Headphones: April 29, 2013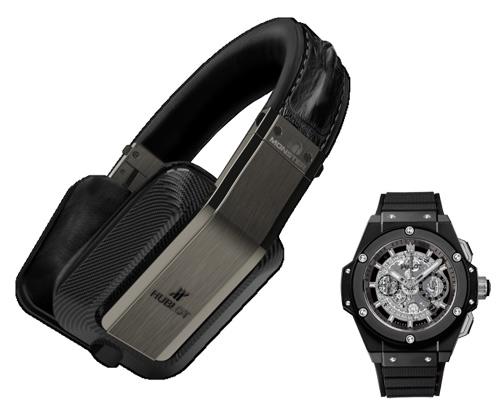 $2,289 for a set of headphones? Sure, we've seen big, clunky audiophile headphones selling for prices in that range, but never a mainstream product priced so high. The new Limited Edition Hublot Inspiration by Monster combines precision machining from Hublot, the luxury watch maker, with carbon fiber earcups and lots of leather and rubber.
The tech inside is just as blingy as the outside, because the LEHIbM is the first headphone to feature Monster's Enigma chip, which facilitates AAC/Apt-X Bluetooth wireless, digital noise cancellation, direct USB audio, and user-customizable sound shaping technology.
The LEHIbM is available this summer at Hublot retailers worldwide at prices starting at-yep, starting at-$1,750 euros. ('Cause pricing in euros is more luxurious than pricing in dollars.)
Another speaker company headphone. It's getting to be a ritual: At trade shows, we ask speaker companies when they're coming out with a headphone, they grin sheepishly, and a short while later come out with a new line of headphones. This time it's KEF, which has launched the $299 M500 on-ear and $199 M200 in-ear headphones.
Surprisingly, the M200 is the more interesting. It uses a still-unusual-but-increasingly-not-so-unusual dual dynamic driver design, with 10mm and 5.5mm drivers in each ear and a crossover to divide the frequencies between the two drivers. We haven't yet been seduced by a dual-driver design, but we're keeping our minds and ears open.
The M500 looks like a fairly typical, brushed aluminum/black leather headphone; it seems targeted at the same upscale, biz-oriented customers who have embraced the B&W P5.
$25 for a set of headphones? Our guess is that OrigAudio's new Beets headphone is aimed at hipsters who are too cool to spend $300 on a set of headphones, and who want to make a big point of it. The Beets even has a band with "beets by origaudio" in the same sans-serif typeface Beats uses for "beats by dre." It's a generic-looking design reminiscent of some of Skullcandy's products, and it's available in six colors. How good could it be for $25? We don't know, but how bad could it be for $25?
For each set of Beets sold, OrigAudio will donate a can of beets to a local food bank. On behalf of all those served by local food banks, we say, "thanks ... I guess."
LATEST VIDEO