VIZIO's "Budget" Plasma TVs
If you've been holding back on upgrading to digital, take a peek at these two new plasmas from VIZIO. The VP422 is going to retail for $799, but the VP322 is a more enticing $599. Both have a contrast ratio of 30,000:1 and three HDMI inputs, including one mounted on the side for a game input. Why not pull out the plastic today?
Both the VP422 and VP322 are high-definition, but only 720p. Still good, but not exactly where you wanna go if you're looking to also upgrade to Blu-ray.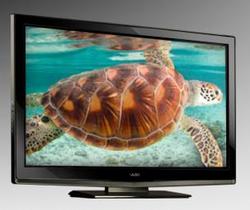 Wal-Mart has been one of VIZIO's biggest suppliers, and with prices this low, it's a perfect match. The VP322 is the 32-inch model, and the VP422 is the 42-inch model. These new models use VIZIO's latest generation glass that improves viewing in high ambient light situations and they boast a 60,000-hour half-life - about 27 years. That will let you catch up on all your TiVo'd episodes of Celebrity Circus. -Leslie Shapiro
LATEST VIDEO
WHERE TECHNOLOGY BECOMES ENTERTAINMENT