Vizio P50HDTV 50-inch Plasma HDTV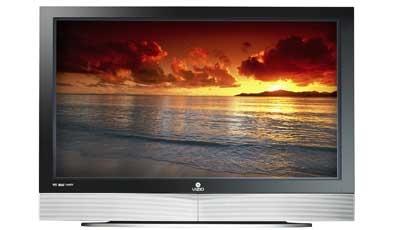 Anyone looking to buy an affordable flat-panel HDTV needs to get acquainted with Vizio - a California-based company that for the past few years has led the charge in delivering low-price plasma and LCD TVs. Up until recently, Vizio mostly sold its products direct or through bargain clubs like Costco and BJ's. But for its newest model, the P50HDTV plasma, the company has expanded its reach to the crowded aisles of Circuit City. This means there will be expanded opportunities for the plasma-curious to lay eyes on this $1,900 50-incher - a miracle of price erosion, if not of nature itself.
With silver, bottom-mounted speakers, shiny black bezel, and side-mounted controls, the Vizio P50HDTV 50-inch plasma HDTV looks just like its 42-inch sibling, which we reviewed in our May 2006 issue. Like the P42, it has a built-in tuner for pulling in over-the-air digital TV broadcasts, and there's also Faroudja DCDi for deinterlacing duties. A relatively sturdy (for a 50-inch model) plastic stand comes with the TV, and you can order Vizio's optional $90 stationary wall-mount, or a tilting version for only 10 bucks more - a good deal either way you slice it.
Inputs on the P50HDTV include not one but two HDMI jacks (the standard on new bigscreen HDTVs these days, but still surprising on a budget model), a VGA connection for hooking up a computer, and component-, composite-, and S-video jacks. There's no CableCARD slot for tuning in encrypted premium-cable channels without a separate cable box, but you can receive both regular analog and unencrypted digital cable by plugging into the set's antenna input.
Vizio's remote control is sturdy and has a clean button layout. The buttons are small, however, and there's no backlighting, making it hard to locate a specific control when the lights are dimmed. Picture-in-Picture, Freeze, and Zoom controls are grouped at the remote's bottom, and directly above them is a set of five direct-input keys for switching sources quickly - a useful feature. The Wide button lets you toggle between the TV's Normal (4:3), Full (16:9), Zoom, and Panoramic display modes, all of which can be selected for both standard and high-def signals (except Panoramic, which is available only for 480i programs).
LATEST VIDEO