Vivitek Qumi Pocket Projector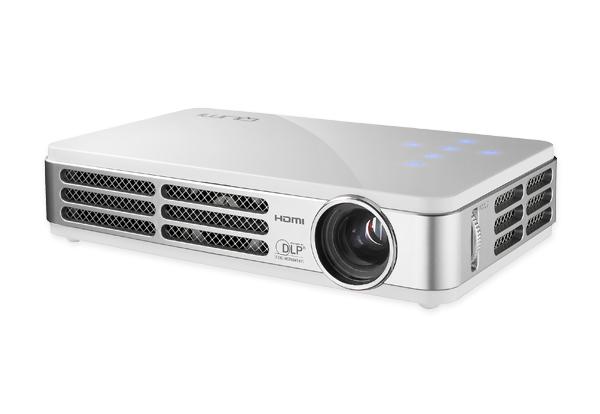 It's amusing to think that just a few years ago, a projector like this would have been 10x the size and 20x the price.
Actually, a projector like this couldn't have existed a few years ago, as it's got LEDs, which only recently have been bright enough for projector use.
The Qumi is a roughly the size of a small paperback book. Inside, in addition to the LEDs, is a 1280x800 DLP chip. There's no zoom, and the lens is focused manually.
Though called a "pocket projector," briefcase projector would be more like it. It's not battery powered, requiring A/C and a small external power brick. It's certainly more portable than a regular projector, but it's not one of the tiny pico projectors that can truly fit in your pocket.
Setup
The menu is surprisingly extensive. You've got all the basic picture controls, plus color temperature and more.
The back panel is a little weird, with micro SD and mini HDMI. There's plenty of space, seemingly, for full sized versions of either. So you'll need to invest a few dollars in a mini HDMI cable. One is included, but it's only a few inches long.
There's a USB connection to play back music, movies, and images from a flash drive. A/V in and out and a "Universal I/O" (for an included RBG PC breakout cable) round out the connections. The tiny built-in speaker is audible, barely.
LATEST VIDEO
WHERE TECHNOLOGY BECOMES ENTERTAINMENT