Video Game Review: Heroes Over Europe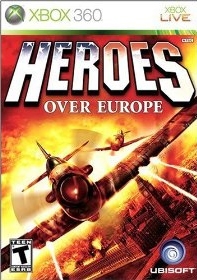 (Ubisoft, Xbox 360; PS3)
---
Game •• Graphics •• Sound ••
There are two kinds of aerial combat simulators: those that practically require you to have a pilot's license and, as in the case of Heroes over Europe, those that pooh-pooh physics and get you right into the action with easy-to-grasp, arcade-style gameplay. If only you cared about the play of this game.
Heroes follows three pilots hailing from different corners of the globe - the United States, England, and New Zealand - as they engage in legendary World War II battles in the skies over Europe. Your main objective, of course, is to fill German aircraft with hot lead. Unfortunately, facing wave after seemingly endless wave of enemies feels like "been there, done that" before too long. And other missions, such as blowing up mines in the ocean to clear a safe path for friendly ships, don't do much to alleviate the tedium.
Environments like fog-shrouded London, the majestic French Alps, and quaint countryside towns are more varied than the gameplay, but whereas they look decently detailed from afar, they're much less impressive when you're flying at low altitudes.
The planes, explosions, and weather conditions also look last-gen, and the frame rate tends to drop off when the onscreen action intensifies. Then there are the cut-rate cut scenes, which consist of static images that are zoomed into or panned across, accompanied by voiceovers.
At least the voice acting is well done, and the rousing (albeit generic) score is fitting enough. The sound of foes closing in around you and the directional effects of their gunfire are what you'd expect from the Dolby Digital 5.1 mix. It's all far from exemplary, but at least you get some sense of immersion.
The lone feature that distinguishes Heroes from other aerial games is called "Ace Kill." This gimmick, allowing you to slow things down and pinpoint your target's weaknesses, is yet another iteration of the Bullet Time visuals made popular by movies like The Matrix and games like Max Payne. Even if you still love this kind of effect, it's simply not enough to prevent Heroes from ultimately plummeting to mediocrity.
The game has only limited replay value, and just four of the already skimpy 14 levels are available for online action - that is, if you're lucky enough to find anyone to play against. Combine that with the monotonous single-player missions, unremarkable graphics, and so-so sound, and Heroes Over Europe amounts to little more than a flying shame.
LATEST VIDEO