Vehicular Nintendo from Visteon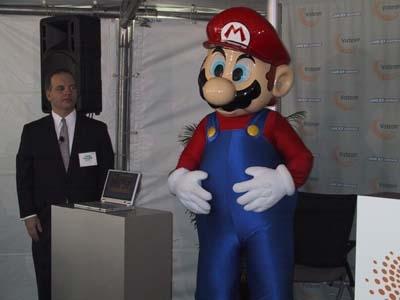 Nintendo superstar Mario the plumber gazes appreciatively at the new Game Boy Advance-compatible version of Visteon's Dockable Family Entertainment System.
Two years ago Visteon introduced its Dockable Family Entertainment System, a portable DVD player that fits seamlessly into the headliner of a car equipped with a matching docking station. Outside the vehicle, it functions as a regular portable player; inside, it automatically rotates the image on its screen for proper display and plays sound through the car's audio system. This year Visteon is upgrading the system to include a slot for Nintendo Game Boy Advance cartridges. A Visteon spokesperson called it the "ultimate backseat babysitter." The player has a 10.2-inch widescreen LCD that automatically expands the normally small Game Boy image and sharpens it. It is slated to arrive in April at a price Visteon would describe only as "very competitive.
Check out more CES news. Back to Homepage What's New on S&V
LATEST VIDEO
WHERE TECHNOLOGY BECOMES ENTERTAINMENT