From the Vaults: October 23, 2012: Classic Punk from the Dicks, Sufjan Stevens' Xmas Album, and Streams Galore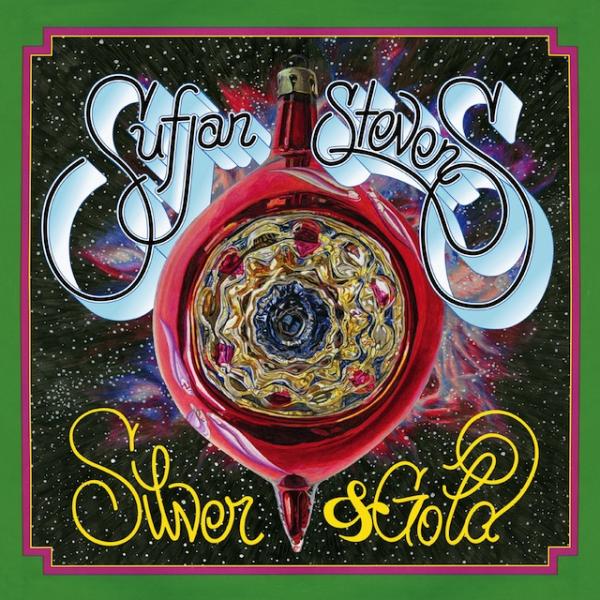 Halloween's not even here yet, but Sufjan Stevens is ready for Christmas
But you can pre-order some fun Holiday albums already, including Sufjan Stevens: Silver & Gold (Ltd Ed. 5 LP, 6 EP set)
At $120 it may sound pricey but it also looks like it will be quite the fun package for Sufjan fans! Here is what the artist's website says will be included with Sufjan Stevens' Silver & Gold package:
1. One of only 2000 Limited Edition Boxsets, including five EPs on 6 vinyl discs (ships only to the United States, Canada and the EU)
2. Christmas stickers
3. Temporary tattoos (non-toxic & safe for children)
4. Paper ornament (self-assembly with directions)
5. 40-page Christmas songbook with vocal and piano reductions
6. Christmas coloring book
7. Hallucinogenic photographs and psychedelic graphic design (by Sufjan Stevens, drug-free since 1975)
8. Extensive liner notes (introductory salutations and an essay on the Christmas tree by Sufjan Stevens, and a few theological words on the End Times by Pastor Vito Aiuto)
9. Membership to the Silver & Gold email list-you'll hear about new tracks, videos, and other content before anyone else.
Plus, we'll send some surprise gifts to box set customers who pre-order here on Bandcamp, and those will most definitely arrive before Christmas.
Pre-order includes immediate download of 2 tracks in your choice of MP3 320, FLAC, or other formats. A link to the complete album will be emailed to you the moment it's released.
And some perennial holiday faves you can already pick up:
Vince Guaraldi: A Charlie Brown Christmas (on GREEN vinyl!)
Elvis Presley: Elvis' Christmas Album 55TH Anniversary (Limited Edition.180 gram LP)
Attention Rare Record Shoppers!
Legendary indie radio station WFMU is having their big Record Fair November 2-4. Write down the dates, all you East Coasters - and you there on the West Coast, book your flights now!
Stream On!
Yeah, we think its cool that the Stones' new single is streaming on line and sounding pretty solid. But we think its even cooler that we found this sweet archive of streaming concerts from Philadelphia's WXPN including artists like Calexico, Sea Wolf, Glen Hansard, Jon Spencer Blues Explosion, The Polyphonic Spree and many others. Here's a rockin' August show by The dBs, featuring material from their latest album!
Reissue of the week: These People by the Dicks (Alternative Tentacles)
If you were a fan of punk and new wave back in late '70s and early '80s you are probably in your 40s or 50s now and - if you are like many folks - you are perhaps wondering how you got here from there. Even more so, on the off chance you have found yourself periodically humming The Dead Kennedys' "Holiday in Cambodia" or The Sex Pistols' "Pretty Vacant" during different points in your life and career, it then might well be high time you revisited your past to reinvent your present.
A good place to start may well be the second album by the influential punk rock band, The Dicks, led by the massive lungs and endless spirit of Gary Floyd. One part rebel with a cause, one part spiritual priest, one part wandering angel, if there is one thread through out Gary Floyd's entire catalog, it is passion. Passion for equal rights; passion for something better than the cards most of us get dealt. No tolerance for bullshit on all levels.
When I cracked open the new vinyl reissue of the Dicks' These People, their second album, from 1985, I was very excited as I got one of the 1,000 copies with the limited edition bonus 7-inch single, a reproduction of their great EP "Peace." When I put my stylus to the first track off that EP, my smile was glued to my face as wide as it could go. That first track, "No Fuckin' War" sounds so huge, grand and as relevant today as it was then. Musically, it hasn't dated a bit (as many other anti-war anthems have) - "timeless."
Check it out - but be warned it might not be suitable for office listening or if you have your head phones on to protect sensitive office mates, be careful as you might find yourself chanting along loudly with its rousing chorus that will ear-worm you for days. Promise.
Listening to the whole album I can't help but hear that this record as a missing link between the first Dicks album and Gary's next band, Sister Double Happiness. Not surprisingly, the version of Dicks on this album includes future SDH drummer Lynn Perko (now in Imperial Teen, for those of you who follow this sort of detail).
The vinyl reveals a great band with a lot of firepower. Probably the only problem I hear is that some tracks have a bit of digital flavor to them, which would make sense if they were recorded on mid 80s digital technology. I'm not sure. Some sound super - "Sidewalk Begging" sounds like it could fit on a Sister Double Happiness record. It rocks like a motherf#@%$r! Regardless, once you get used to the sound, focusing on the music is easy - in fact, the music forces you to pay attention and more often than not you'll want to crank up the volume. Thrashy shredding gives way to bluesy wailing before slamming back into hardcore bursts that will have you counting off "1,2, 3, 4" and moshing around the living room in your faded Joe Boxers. Warning: If you are feeling really repressed in your middle age you might not want to listen to this album while driving in the car to work as you might do something stupid.
Oh, and yeah, if you hate your day job already and work in a tall faceless building, you probably won't want to listen to "Executive Dive" until you get on the ground level and are surrounded by caring friends. At that point, the song might convince you to simply quit your day job and start up a rock band. And you know what, that might not be such a bad thing.
Hey Hey, My My...you can orrder These People direct from Alternative Tentacles.
PS: we just noticed that The Dicks' first album Kill From The Heart is also out now on LP and CD again via Alternative Tentacles, complete with free downloads and other cool bonuses. For $12 how can you NOT order that as well? I'm going to right now!
"The LP and 7" comprise the complete studio output of the original lineup. If you aren't familiar with Kill From The Heart, then you need to be aware of this bona- fide classic of Reagan-era punk - a record that inspired many of the artists that inspired you. the songs "Hate The Police" "Kill From The Heart" and "Wheelchair Epidemic" have been covered by Mudhoney, The Spits, & Jesus Lizard respectively. Alternative Tentacles is proud to present this very important document of essential early '80s punk from Austin remastered with love by Jello Biafra."
And while you are there at Alternative Tentacles, you won't regret spending FIVE extra dollars to get a sweet vinyl copy of the album by Gary's last band, Black Kali Ma. A fantastic rock blues album that rocks like nobody's business and contains the shouldabeen hit "Wonderful." It is.
LATEST VIDEO