"Variations," "Soloist": classical is popular
In one of those nice instances of serendipity, classical music — specifically, Beethoven — is the foundation of a new play and a new film.
On Broadway is Moisés Kaufman's 33 Variations. The play was first seen in 2007 in Washington, D.C., and then last year in La Jolla, California. But this is its big coming-out — especially since the star is Jane Fonda, making her first Broadway appearance in 46 years. She portrays a musicologist trying to determine Beethoven's reasons for composing 33 Variations on a Waltz by Anton Diabelli. Parallel to her character's struggles with ALS (Lou Gehrig's Disease), we see Beethoven, played by Zach Grenier, raging against his own failing health.
Both Fonda and Grenier are excellent, and they're well supported by Colin Hanks (Tom's son, in his Broadway debut) and Samantha Mathis. There's a remarkable scene in which Grenier demonstrates the intricacies of Beethoven's work — and visually, the scene is reminiscent of Tom Hulce's Mozart finishing the Requiem on his deathbed in Amadeus. Indeed, 33 Variations could lend itself to a similarly stirring film treatment. But for now, you can only see it on Broadway — and only until May 24, because this is a limited run.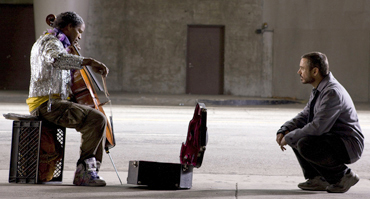 Meanwhile, on movie screens today is Joe Wright's The Soloist, a true story that has Robert Downey, Jr., appearing as an L.A. newspaperman who befriends a schizophrenic but cello-playing homeless man, portrayed by Jamie Foxx. It's quite a departure for the English director Wright, whose first two films were Pride & Prejudice and Atonement. But he does a fine job of conveying the griminess of L.A.'s skid row, the halting connection between the two characters, and the seemingly redemptive power of music.
The soundtrack includes Bach's Cello Suite No. 1, but it focuses primarily on the music of Beethoven, including the Third and Ninth Symphonies — excerpts from which are seen being performed by Esa-Pekka Salonen conducting the Los Angeles Philharmonic. And the performances by Downey and Foxx? It should be noted that, although Downey is customarily rock-solid and persuasive, Foxx (Ray) gives another truly fascinating turn as a musician — a role that the Academy would do well to remember when it comes time again for Oscar nominations.
— Ken Richardson
LATEST VIDEO