Usher Be-718 Speaker System
The best way to spice up a dull, dark, soundless day.
Here's how Edgar Allen Poe opens his short story "The Fall of the House of Usher": "During the whole of a dull, dark, and soundless day in the autumn of the year, when the clouds hung oppressively low in the heavens, I had been passing alone, on horseback, through a singularly dreary tract of country; and at length found myself, as the shades of the evening drew on, within view of the melancholy House of Usher." Although trade shows are hardly soundless, and I don't navigate them on horseback, Poe evokes a bit of the feeling I get slogging through them. But the Usher exhibit didn't seem all that melancholy when I stumbled on it at the 2007 Home Entertainment Show. In fact, hearing a pair of the Be-718s in action made me want to review them.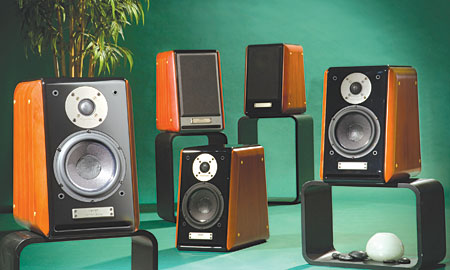 "Clouds hung oppressively" when I wondered whether it would be possible to get a surround configuration in for review—would Usher, despite its clear two-channel orientation, be able to muster a five-piece set for reviewers and customers? Yes, I was told, and the clouds blew away. Usher is planning a complementary center-channel speaker and subwoofer for the second half of 2008, but I chose not to wait for them. I actually prefer identically matched speakers all around, and when they have respectable bass response, I don't mind doing without a sub. The Be-718 times five suited me fine.
Please note that, at press time, the company had yet to work out a serial-numbering system that would enable the ordering of odd-numbered (five- or seven-channel) sets. My review sample was actually a set of six, one of which went unused. That shouldn't slow you down if you have an even-numbered configuration (6.1, 4.0, etc.) or don't mind stashing an extra speaker in the closet. Usher told me that catering to the home theater market is "obviously a great opportunity—special HT pricing to come."
From Asia with Love
Perhaps no one carries the audiophile banner more ardently than Asian hi-fi fans and manufacturers. Usher Audio has been designing and making speakers in Taiwan for more than 30 years. Products are distributed in the United States by Dallas-based MusikMatters. The Be-718 is a product of Usher's "global design philosophy." I'll let the company explain it:
"The high-technology drivers, crossovers, and perfectly time-aligned cabinets are designed and built by Mr. Tsai Lien Shui at Usher Taiwan, with finishing cosmetics supplied by a firm in the United Kingdom. Dr. Joseph D'Appolito, Usher's long-serving technical consultant, provides basic crossover tuning here in the States. Next, Texas-based Danny Richie, chief designer at consulting firm GR Research, hotrods the standard Be-718 for the U.S. market. Danny re-engineers the entire crossover, selects premium U.S. crossover parts, adjusts the speaker's baffle step compensation, and improves vertical off-axis dispersion. Finally, all internal wiring is replaced with premium wire from JPS Labs."
The Be-718, at $2,795 per pair, is part of Usher's highest-end Dancer Series. It is a stand-mount speaker, although the other four Dancers are floorstanders. One of the rare speakers to have a nickname as well as a model number, the Be-718 is also known as the Tiny Dancer—do I detect a whiff of Elton John nostalgia? Usher offers four more floorstanding speakers in the 6 Series. The V Series mixes it up with two towers, a monitor, and a center. Three monitors dominate the X Series, but there are also floorstanding and center speakers, one each. The most compact option would be the Usher Series, featuring two centers, a satellite, and a subwoofer.
The black-lacquer front baffle curves continuously along the top and down the back. Both drivers have a slight upward tilt, potentially avoiding an acoustically undesirable perpendicular hit on the back wall. Hardwood side panels may include the same piano-black finish or the warm birch that enlivened my review samples.
The Be-718 speaker weighs around 38 pounds. My abdominal muscles commented: "Be sure to mention in your review that this is a heavy speaker. What is this freakin' thing made of, lead?" As a matter of fact, the enclosure is a nice, fat full inch of medium-density fiberboard with internal bracing and, in U.S. models, a lead lining. "I thought so," said my tummy.
A beryllium-oxide ceramic-dome tweeter, paired with a 7-inch paper cone woofer, is the "Be" in Be-718. It provides pure and potent high-frequency response out to 30 kilohertz. Usher notes that other manufacturers run their beryllium tweeters out to 40 kHz, with resultant breakup: hence the 30-kHz limit, which is still well beyond the range of human hearing.