Unstoppable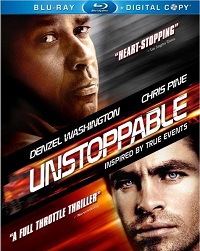 Director/producer Tony Scott is no stranger to action movies. His resume includes hits like
Top Gun
,
Deja Vu
, and
Man on Fire
, the last two starring Denzel Washington. The two team up again here in one of the better action movies to come out of Hollywood in 2010.
Based very loosely on a 2001 story of a runaway train in Ohio, writer Mark Bomback jazzes it up for the sake of entertainment and action. As in real life, the adventure begins when an idiotic engineer jumps from the slowly moving train in order to reposition a switch before the train can damage it. Successful in this task, he then tries to reboard the moving train as it gains speed, but to no avail.
From this point on, the facts go out the window as the fictional train loaded with toxic chemicals hurtles toward Scranton, PA, where an elevated curve in the track will cause the train to derail, creating an environmental catastrophe and costing many lives. Despite its best attempts, the rail company can't slow the train down, and two unlikely heroes emerge to hopefully save the day. Along the way, we witness a few narrow escapes, corporate incompetence, and one hell of a thrill ride.
Scott's films always look great, and this one is no exception. The AVC encode features bottomless blacks, heightened contrast, and outstanding detail. Waxy flesh tones are nonexistent, natural film grain is preserved, and the colors leap off the screen. But the presentation truly shines with its DTS-MA 5.1 soundtrack, which puts you right in the middle of the action with reference-quality bass and plenty of discrete effects. Whether it's a helicopter flying through the room or the thunderous out-of-control train barreling down the tracks, the Oscar-nominated sound design is an integral part of the story that's worth the price of admission all by itself.
Near miss

Chapter 7, 00:23:10
Color saturation, detail, panning effects
As the camera zooms in on the speeding freight train, check out the detail in the locomotive, the clearly legible 777 designation, and vivid color saturation. In the next cut, listen to the panning effects as the two trains zoom past on opposite tracks.
Horse play

Chapter 10, 00:35:05
Frequency response
Feel the impact as 777 barrels into the horse trailer lying in its path. Did the horses get out in time?
Preparing for the worst

Chapter 20, 01:03:41
Surround envelopment, dynamics
The authorities attempt to derail the train before it reaches the deadly curve. As they prepare for the procedure, listen to the circling helicopter, the panicked voices on the police radio, and the wailing of the sirens as they move around the soundstage.
Release Date: February 15, 2011
Studio: Fox
Movie: 7/10
Picture: 9/10
Sound: 10/10
LATEST VIDEO