The two best things in the world under one roof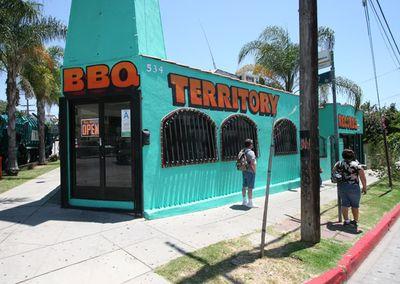 The Silver Lake neighborhood of Los Angeles hosts what might be the only place that combines the two greatest passions of the world's most serious connoisseurs: vinyl records and barbecue. Territory BBQ + Records merges a shack-style barbecue joint with a vinyl-only record store--and surprisingly, it delivers on both.
The record store isn't large; it's only about the dimensions of your average bedroom. But like many of the best record stores, what it lacks in size it makes up for in quality. The racks are packed with classics of the 60s, 70s, and 80s. As I flipped through the stacks, I found album after album I recognized and, in an earlier time, loved. Many of them I probably hadn't laid eyes on for 30 years.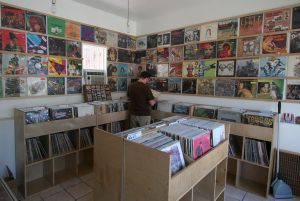 Prices were reasonable: a copy of Led Zeppelin II in decent shape was marked at $6. Some records included small labels with witty "tasting notes" from the staff. One rack contained new records, but most of the store was devoted to used. (And no, there wasn't a single CD in evidence.) I picked up a copy of the two-disc Ramones Mania greatest-hits collection for $15, eager to hear the legendary punk band on vinyl for the first time.
The BBQ half of Territory BBQ + Records shares the same bare-bones aesthetic, but anyone who knows barbecue knows that's the right way to do it. The menu's small, and most everything's cooked right there in front of you. Fitting with the old-school theme is the soft-drink selection: all in glass bottles, all made with real sugar instead of newfangled corn syrup, and all stored in a grab-it-yourself refrigerator outside.
The restaurant's open-air dining area features indie music blaring from a minisystem (sourced from an iPod, sadly, not from a record player). The surroundings are rich in the ramshackle vibe that both vinyl and barbecue enthusiasts crave. And the barbecue fits the purist aesthetic: It's no-nonsense pulled pork and brisket, cooked on-site and delivered promptly by an elaborately tattooed proprietess. The real star of the menu, though, is the biscuit, which is served with apple butter. Seriously, it's the best this Texas boy has ever tasted.
Angelenos and tourists who want to fill up on great music and tasty rustic food should be sure to check the website--as will surprise no one, Territory BBQ + Records keeps somewhat unusual hours. But it's worth it for the feeling of a stomach stuffed with soul-satisfying grub and a backseat bearing a new record you can't wait to hear.--Brent Butterworth
LATEST VIDEO