TVs Must Add Features to Compete. Surprised?
It's the same in every business. You have to keep adding features to keep the sales flowing. You need a new camera because the new ones do so much more than your old one. Your old cellphone worked just fine, but the new ones have so much more stuff. Your wife was just fine, but . . . wait!
That's another story.
TV marketing research has come out with an interesting report about how the TV industry will have to also add upgrades if they want to keep sales growing after an initial jump in digital TV sales due to the DTV transition.
DisplaySearch is a market research company focused on the television and display industry. Their recent report has some interesting facts.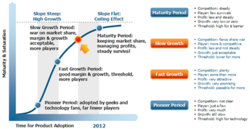 As TV prices fall and interest in higher-definition increases, TV sales are doing great in 2008. However, that's expected to peak between 2009 and 2011. After that, features will have to be added to increase sales. DisplaySearch lists the features that need to be added, "Higher resolutions, expanded broadband infrastructure, internet connectivity, versatile applications and interactive capabilities to meet the needs of the connected digital home of the future where PC and TV are synonymous."
The report, TV Evolution: Specifications, Applications & Strategies talks about the changes in TV specs and has in-depth analysis and ideas to help manufacturers, and consumers, get a handle on where TV needs to go in the future.
While it's not exactly light reading, it's also no surprise. Who here is still using a cellphone that's the size of a brick? I saw a woman jogging with a portable CD player last week. That's so last century. -Leslie Shapiro
LATEST VIDEO