A-T's Women's Headphones: Pink It and Shrink It?
Now, I'm all for women-specific products. I'm a cyclist, and I know for a fact there are some bicycle parts made for men that just should not be allowed near my feminine form - bicycle seats and shorts come immediately and painfully to mind. But, there are also many things marketed for women that I put in the "pink it and shrink it" category. You know, make it smaller, slap a coat of pepto-pink paint on it, and called it "Designed for Women."
Audio-Technica has just released a line of headphones, designed for women. Crystal Griffith, Audio-Technica Consumer Marketing Manager, stated, "Audio-Technica is the first company to offer an entire product range of headphones that are designed specifically for women. Our new in-ear and on-ear models for women let you listen in your own fashion. They combine attractive design with outstanding sound quality, portability and value, and come in a variety of appealing colors to match any style - or stand out in the crowd."
The question is, did they just pink it and shrink it, or do these products have anything that makes them more ergonomic for a woman's ear? Do they account for the difference in hearing between the sexes? Head size? Ear shapes?
The ATH-CK1W ($49.99) are in-ear headphones, available in a rainbow of colors. Orange, purple, and pink included. They come with interchangeable eartips in XS, S, and M sizes. So, yeah, they actually do allow for the fact that some women have smaller ear canals. Shrink it . . .


The ATH-ES3W ($79.99) are on-ear headphones, also in bright colors - blue, green, silver, and . . . pink. The ATH-ON3W ($59.99) are also on-ear headphones, in dark gray, teal, white, and . . . pink. The thin wire band on this won't mess up a single hair of a 'do. The headband on both of these are adjustable, so even a petite woman could probably get a good fit. I'll admit that some men-specific (?) headphones don't adjust small enough for a secure fit on my feminine noggin.

The last in the lineup are the ATH-CK52W ($59.99) in-ear phones, in white, black, and drumroll, please . . . pink.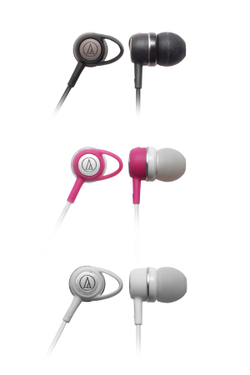 All kidding aside, the high-end frequency response for them range from 22,000 to 28,000 Hz, accounting for the higher limits to women's hearing. These are really stylish, come with attractive carrying cases, and sound as good as the men's version - better, in fact, if they fit properly. Designed for Women might be a good thing.

I'll be the first to admit I'll buy anything that's pink if it's the right shade of pink to match my bikes (hot pink, or fuchsia, not powderpuff girly pink if you must know.) Plus, October is Breast Cancer Awareness month.
Buy your mom, sister, wife, daughter or any woman you love some pink Audio-Technica headphones. -Leslie Shapiro

Audio-Technica
LATEST VIDEO