Tron's Screen Gem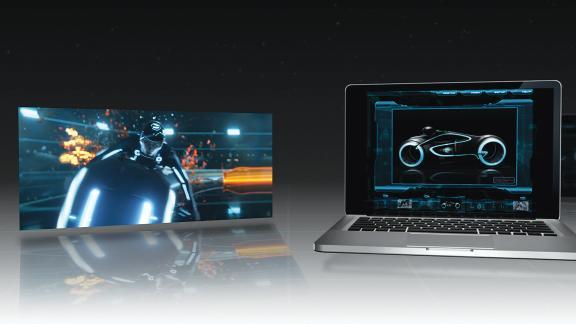 First with the just-released Diamond Edition of its 1942 classic, Bambi, and now with Tron: Legacy, Disney is including a Blu-ray bonus called Disney Second Screen. After downloading an app to your iPad or laptop computer, you enable the program in the disc's menu. The iPad/laptop now plays special features to coincide with your viewing of the Blu-ray on TV.
Syncing the two screens would seem to be the obvious problem, but the app can listen to the audio in the movie and automatically line itself up. A manual sync is included that involves just clicking a button or tapping the portable's screen when a counter reaches 0. (Tron: Legacy will also have a network sync.) No matter the method, if you want to scan ahead or stay on something you find interesting, a simple button push will bring you back in sync.
I played with a demo of the Bambi version and was highly impressed. Second Screen features included different animations of a character and some tests showing how scenes evolved. Storyboards, still frames with info tags, paint-by-number games, puzzles, and more were all usable without interrupting the movie.
The Second Screen for the Tron: Legacy Blu-ray will offer CGI vehicle renders that you can rotate and zoom into. Certain movie sets will be available in 360º views. Various scenes will have a Progression Reel, where you can peel away the CGI layers all the way down to the actors against the blue screen. You'll also get concept art and much more.
Being able to go behind the scenes of a movie while you're actually watching it is becoming second nature, given all the Web-connected devices in our lives. But enjoying dedicated content from an app that's timed to the movie - well, that points to a clever use of technology. In this way, Disney Second Screen has brought something new to the Blu-ray experience.
LATEST VIDEO