Toshiba 56HM195 56-inch 1080p DLP HDTV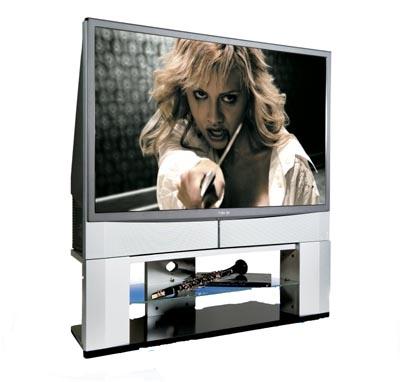 What We Think
Video purists will have some issues, but this Toshiba delivers a sharper picture than many sets.
As the choices in HDTVs become ever more complex, there remains one simple constant: higher resolution is better. When the average football fan comparison shops for a new big-screen centerpiece for his living room, he may not care about DLP vs. LCD vs. LCoS, but as surely as a touchdown beats a field goal, 1080p beats 720p every time. The Toshiba 56HM195, a 56-inch rear-projector that uses the same chip as other 1080p DLPs we've tested, boasts the same key advantages of those sets vs. lower-resolution HDTVs. One is the ability to deliver more detail with 1080i HDTV broadcasts. The other is that you can sit closer to the screen without seeing distracting grid lines between the pixels. And it delivers these benefits for significantly less money than comparably sized 1080p sets from other manufacturers: the 56HM195's $3,200 list price is $600 less than the 52-inch Mitsubishi WD-52627 I
reviewed in September
, and I found it offered for as low as $2,799 at a Toshiba-authorized online merchant.
Toshiba's 56HM195 is all business on the outside. The screen is surrounded by a thin gray frame on the top and sides, allowing for tighter installations than most sets of this size. Basic controls are on the right side, along with a pop-out hatch that houses a set of inputs and a pair of multimedia card slots. I'm not a huge fan of the crowded remote: the button arrangement on its bottom half is somewhat haphazard, and the keys for display mode and menu access aren't prominent enough. I appreciated the handset's blue backlighting, but not the faint whining sound it produced.
SETUP Toshiba includes a couple of features to help you operate your A/V system. TheaterNet lets you command numerous components through the television's onscreen interface by way of infrared (IR) emitters (four are supplied). I prefer using a universal remote, which is why I liked the second control option: IR pass-through. This is the only HDTV I've reviewed that can simply pass the infrared commands from any remote through its IR emitters to other components, so you can stash your gear in a cabinet, for example, and still control the whole system. It also lets you conveniently aim your remote right at the TV for any system function anytime the set is on.
PICTURE QUALITY Before digging into a movie or TV show, I put the 56HM195 through a thorough calibration and checked out a variety of test patterns and video clips in both standard- and high-definition. Unlike most of the 1080p sets I've seen in the past year, this Toshiba had a blue bias even with the Warm color-temperature setting selected, which gave a faint blue cast to white and gray areas. Calibration largely fixed this problem in the lab, but to see how the set performed with a movie, I chose the demanding, largely black-and-white Sin City DVD.
With my HDMI-enabled DVD player set to 1080i output, the Toshiba easily handled the sharpest details on the disc, realistically rendering fine areas like the hair of the poor child Nancy blowing in the breeze, or the stunning blonde locks of Goldie against the blood-red heart-shaped bed. The few splashes of lurid hues in this expanse of shadows and light came across with shocking impact.
LATEST VIDEO