Toshiba 37HLX95 37-inch LCD HDTV/DVD Combo
By now, LCD technology has all but taken over the small-screen TV category. You can still buy a small traditional tube set, but most folks looking for a TV to stick in a bedroom or kids' play area will find LCD more appealing. The main reason, of course, is the space-saving flat-panel screen. Small rooms call for a compact TV, and what could be better than one that literally clings to the wall or sits elegantly on a pedestal? LCD prices still hover well above those of their bulky tube counterparts, but they've dropped to where some 20-inch models now cost as little as $300!
What We Think
A very good LCD TV with the bonus of a built-in DVD player and CableCARD-ready tuner.
The Toshiba 37HLX95 37-inch LCD HDTV/DVD combo is bigger than the most popular flat-panel LCD sets, and at around $3,000 retail, it's definitely pricier. But if you like watching widescreen DVD movies and HDTV, 37 inches is about the smallest screen I'd recommend. The Toshiba has an unadorned, functional design, with a black border framing the screen, bottom-mounted speakers, and a swiveling base that lets you pivot the screen 15° in either direction.
It also has many extras that contribute to a clean installation. Most notable are a slot-loading DVD player built into the set's left side, and a CableCARD slot - which lets you forgo using an outboard cable box - located around back. Both of these features are desirable for a secondary room where's there's no A/V rack to stash additional components.
Yet, while this Toshiba LCD was designed for a minimalist setup, that doesn't mean it lacks connections for other gear. Alongside HDMI and component-video jacks for high-def hookups, it has a VGA port for connecting a computer, and there's an A/V convenience panel on the side for plugging in a camcorder or headphones on the fly. About the only thing missing is a card slot or USB port for viewing photos from a digital camera.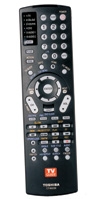 Control buttons to operate the TV and DVD player are on either side. Toshiba's remote control, meanwhile, is fairly wide, with a nicely spaced button layout and a backlit keypad. During use, I found it easy to shift between controlling the TV and the DVD player. You switch video inputs by pressing the Input button and scrolling through an onscreen menu (these can be relabeled Cable, Satellite, and so on) or by hitting the corresponding number button on the remote - a nice convenience. The Pic Size button calls up a similar menu that lists five display modes: Natural (4:3), Full (16:9), and TheaterWide 1, 2, and 3. In addition, an Auto option lets the TV choose the appropriate aspect ratio for the program.
SETUP The Toshiba 37HLX95's built-in HDTV tuner was sensitive enough to grab all of the digital stations in my area via a basic indoor antenna. The TV Guide On Screen program guide supplied with the TV also carried program data for the digital channels on my cable system. As usual, the lineup needed to be manually reordered to match that of my cable box - a standard glitch with this (thankfully) free service. The TV also emitted an irritating high-pitched whine every time I used the remote control to browse TV listings, call up menus, or control the DVD player - not an unknown problem with flat-panel TVs. Fortunately, the sound from most TV programs sufficiently masked this noise. I also noticed that the Toshiba's screen looked washed out when viewed more than 30° off-center, but that's also typical with current LCDs.
LATEST VIDEO