Torn and frayed at SXSW . . .
You "wake up" in the (late) morning, and immediately there are panel discussions to run to. Then there are day parties to hopscotch to and fro — not to party at, mind you, but to see bands that you can't see at night, because of conflicting time slots. Next comes dinner somewhere (if you're lucky) and then, beginning at 8 p.m., there are six bands to see, one each at each successive hour, going all the way to a 1 a.m. band slot. Which means that you crawl back to your hotel room and "go to sleep" circa 2:30 a.m. (if you're lucky). And you'd better get a good sleep, because you have to do it all over again the next day. And the next day. And the next day. What fun!
And yes, what genuine fun it is for a music fan to be at the annual South by Southwest Music Festival (SXSW) in Austin, Texas. But you need reliable shoes and an overabundance of stamina. Good thing they're giving out free energy bars this year!
Over the last couple of years, I've posted some fairly comprehensive blogs on my festivalgoing. But not this time, sorry.
It's like this . . . 
Two years ago, the only time I could find to blog was in the middle of the night, after the last show. That kept me up until close to 5 a.m. each day before going to sleep for the "next" day. No good.
Last year, I decided instead to blog first thing each day. But that ran well into the afternoon, meaning that I missed several panels and daytime bands I should have seen. No good.
Meanwhile, I'm alone here. Which is to say, when S+V goes to the Consumer Electronics Show each year, it's represented by a relative flotilla of editors and writers — and appropriately so. That's why we can post multiple, daily blogs from CES. But at SXSW, it's just your humble Entertainment Editor.
And besides, as I mentioned in my previous post, we've gotten back more space in the print magazine for official coverage of SXSW. Thus, in a reversal of the usual shift from print to online reportage, I'm just going to tease you here for my feature story, to appear in our June-July-August issue.
What will be in that story? For some early tips, read on . . .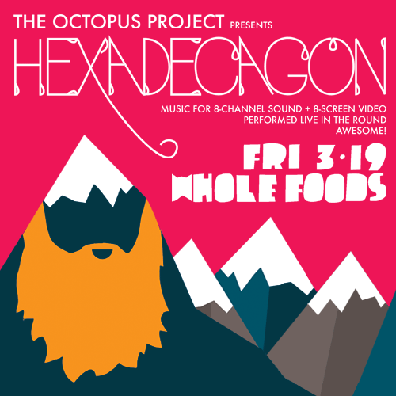 The Octopus Project, from right here in Austin, will definitely be in my story. Why? Read the poster above, and it should become clear. I can say no more. (But if you want to know more in the meantime, you can always click on the band's name at the beginning of this paragraph.)

Other highlights in the three days so far:
The Dandies, from Switzerland
Pustki, from Poland
Gong Myoung, from South Korea
Longital, from Slovenia
The Lovely Feathers, from Canada
ReBelle, from the Netherlands
Danny Schmidt, again from right here in Austin
Lotsa international bands. Is there a theme there? I can say no more.
But there are other international highlights, like Spain's Amaral and some-Iranian-bands-to-be-identified-later. Why are they separate from the list above? . . . I can say no more.
And does Giant Cloud have anything to do with The Cloud vs. the Paradise of Infinite Storage?
I've just missed the Dum Dum Girls to write this post. (See what I mean?) But that's okay; the DDGs are sort of a known entity already, whereas nearly all of the bands I've covered so far are not. Which makes it all the more fun to get torn and frayed at SXSW.
And it ain't over yet. The final night is yet to come. (Where's that energy bar?!)
Stay tuned for our June-July-August issue.
— Ken Richardson
LATEST VIDEO