Test Report: Mitsubishi LT-46265 LCD HDTV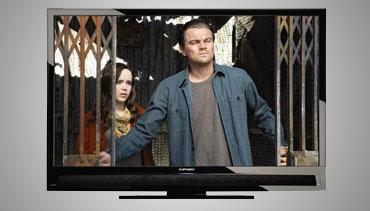 When I first checked out one of Mitsubishi's Unisen "Immersive Sound" LCD TVs (the LT-46153, reviewed here), I was struck by the ingenuity of mounting a full-featured soundbar into the set's cabinet. And when I eventually connected a subwoofer to the TV, powered it up, and let a movie rip, I was floored by the room-filling sound - something you don't expect from a flat-panel model. With Mitsubishi's new 265 Series Unisen sets, including the 46-inch model LT-46265 tested here, good sound walks hand in hand with a number of picture-quality refinements, such as an edge-lit LED backlight, a 240-Hz screen refresh rate, and separately adjustable Motion Blur and Film Judder adjustments.

But the feature parade doesn't stop there. The LT- 46265 offers built-in Wi-Fi to stream video from Vudu and music from Pandora, among other sources of online content. And you can also use a Bluetooth-enabled portable to send music wirelessly to the TV. Another key difference between the LT-46265 and the model I had previously tested is the number of speaker drivers packed into the soundbar: It has 18 as opposed to 16. In case you were wondering, it does not do 3D; you'll need to buy one of the company's DLP projection TVs for that.

While the cosmetic design of earlier Unisen models was nothing to sneeze at, this new TV sports some definite enhancements. The bezel surrounding the screen remains appealingly thin, but the soundbar at the bottom is now seamlessly integrated into the façade. The set's stand is of the non-swiveling variety. Cabinet depth is 3 inches - muy gordo for a flat-panel TV circa 2011, but then again, how many of those model-thin sets harbor an 18-speaker soundbar?

Along with Wi-Fi and Bluetooth, the LT-46265 has plenty of hardwired connections on tap. There are four HDMI jacks, a pair of component-video inputs, a USB slot to access photos (jpeg) and music (MP3) on a portable drive, and a LAN port for hooking up to a wired home network. And then there's the subwoofer output, which is crucial for getting the best audio performance from the system. (Mitsubishi sent along a Polk Audio PSWi225 wireless subwoofer, a compact guy with an 8-inch driver that gets signals from a wireless transmitter you attach to the TV.)

The last Mitsubishi LCD I tested came with a seriously stripped-down remote that banished several key controls normally found on remote keypads, such as input, picture mode, and aspect ratio, to the virtual domain of the TV's onscreen menu. I found this to be an okay tradeoff for a remote that was uncluttered and easy to use. Mitsubishi's engineers must have gotten some flak for that design, though, because the LT-46265?s remote is about as traditional as they come. Unfortunately, "traditional" here also means traditional remote control shortcomings, such as a non-backlit keypad and lots of small same-size control buttons scattered seemingly randomly about its surface.
LATEST VIDEO