Test Report: Definitive Technology Mythos XTR-50 Speakers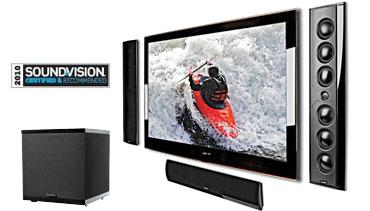 I don't know who said, "You can never be too rich or too thin," but it wasn't a speaker engineer. Thinness is the enemy of good sound because in order to produce sound, a diaphragm of some sort has to move back and forth. The lower the frequency of sound, the farther back and forth that diaphragm has to move. And the thinner the enclosure that holds the diaphragm, the shorter the distance the diaphragm can move — and the less bass and more distortion it will produce.

When the slimmest flat-panel TVs were about 4 inches deep, it wasn't hard to build an equally thin on-wall speaker. Now that many new TVs are less than 1 1/2 inches deep, older on-wall designs are starting to look like Lane Bryant models. Enter the Definitive Technology Mythos XTR-50, the first speaker designed specifically for use with the latest ultra-thin TVs. The XTR-50's curved grille stands out only 1. inches in the middle and 1 inch at the edges. That curve provides extra depth for the speaker drivers in the middle but matches the depth of a 1-inch-thick TV at the edges.

Minor strokes of genius abound in the XTR-50. The woofers' neodymium magnets poke through the back of the extruded aluminum cabinet, an idea that bought Definitive's engineers a precious few millimeters of space. A thermally conductive gasket seals the hole around the woofers and also allows the aluminum enclosure to act as a heat sink. Drivers mount from the back, thus tying the front and back together mechanically to minimize vibration.

Each XTR-50 has the same 1-inch aluminumdome tweeter used in other Mythos speakers, flanked by two 3.5-inch aluminum-dome woofers — the first dome woofers I've seen. Four 3.5-inch aluminum-dome passive radiators surround the woofers. But even six 3.5-inch domes can't produce enough bass to convey the bombast of a typical Jason Statham flick. Thus, Def Tech insists that you use a subwoofer with the XTR-50. My test system included the SuperCube III, a cute minisub that complements the XTR-50's aesthetic.

You can flip an XTR-50 on its side to use it as a center speaker, and you can use it as a surround speaker, too. It's available only in black, which looks great next to most TVs but could be visually intrusive when used as a surround. Realizing this, Definitive catered to my sophisticated design sense by including a pair of its Mythos Gems. The Gem, reviewed in our January 2009 issue as part of a Mythos system, is a 10.25-inch-high surround speaker with dual 3.5-inch woofers set at different angles to broaden the sound field.
LATEST VIDEO