SXSW, Day 2: Thursday, 3/13
As I warned you in SXSW: The Night Before (under Rule No. 4), tonight is the night I make my pilgrimage to Soiled Mattress & the Springs. The photo at left is the opening image on the band's MySpace page - and I can't think of anything better to sum up their . . . but I'm getting ahead of myself again. Ken Richardson here, folks, inviting you to click below for another wild night at SXSW.

2 p.m.
Riz MC
(London)
myspace.com/rizmc
I'm off to the Brit BBQ in Brush Square Park for some . . . barbecue, of course. But while I'm there, I check out this Brit rapper and find him to be quite appealing. That red blast across his mouth in Photo No. 1 apparently refers to Brit radio stations banning his "Post-9/11 Blues" for, according to The Austin Chronicle, its "humorous tone." But as I see and hear him, he is indeed "appealing" - as in having an actual personality, not to mention a decent voice and a smooth way with words. Nice guy (and yes, I mean that as a compliment, rapper or no). Yet as he confesses in one track: "I can't turn my radar off / Anyone, anything, I put it in a box." Don't we all.
8:30 p.m.
Gowns
(Oakland)
myrobobedroom.com
I actually arrive at the Habana Annex Backyard around 9:20 p.m., the scheduled start time for Soiled Mattress & the Springs . . . but things are running late, and I run into this trio. Or should I say, they run into me. Ugh. It's the worst No Wave imaginable. During the second of the two "songs" I hear, one guy saws away aimlessly on a fiddle, another guy hits a drum every 10 seconds or so, and the gal on guitar not only strums mindlessly but sings atonally. "Gowns"? No things of beauty here, folks. In fact, no finesse, no ideas . . . no talent!
9:40 p.m.
Soiled Mattress & the Springs
(New York)
http://www.upsettherhythm.co.uk/soiledmattress.html
If you want to see what they look like, go back to that post Before. What, then, do they sound like? Imagine the humor of the Bonzo Dog Band crossed with the eccentric chops of Frank Zappa, and you'll get an idea. They're pretty good at the humor; the saxophonist, who proclaims, "We are very happy to play in Mexico!," stalks around like Groucho Marx. But they're not always very good at the chops. You need a rock-solid drummer to anchor this stuff, and the Soiled guy wavers a lot, often missing the beat when he comes out of a roll. But the Springs sure do have a blast mixing their sax/keyboards harmonics. Ultimately, these guys do have talent. They just need a bit more refinement (if that's the right word; you don't want this kind of stuff to get too refined). Anyway, it's starting to sound a little old, so I leave the Backyard and go inside for . . .
10 p.m.
Boys in a Band
(Gota, the Faroe Islands)
http://sonicbids.com/epk/epk.asp?epk_id=112722
The photo shows some of the Boys, but tonight there are five: keyboards, bass, drums, and two guitars. Think "over the top." Mostly in a good way. You get thick '60s organ, tough '70s rock, and funky '80s beats, all in a very loud stew. The guy on keys looks like Roy Wood, whereas the guy on bass comes across like a metalhead trucker.
Haven't a clue where the Faroe Islands are?
Here ya go:
That's them in the middle, north of the British Isles. "It's very, very cold up there," says one of the Boys. "Since we've been in Texas, it feels like we're burning our asses off." Still, they're apparently so used to jumping around to keep themselves warm, they jump around with a vengeance at their gig, taking every opportunity possible to leap off the stage and jump amidst the audience.
Somehow, it all works . . . but, like I said, it's way over the top. So, for a break, I go back outside to see what's cookin' in the Backyard.
10:20 p.m.
KIT
(Oakland)
http://www.upsettherhythm.co.uk/kit.html
I shouldn't have bothered! Really, do you want to know how bad this lunkheaded punk is? No, you don't. And we all don't want to know what's in Oakland's water, either . . .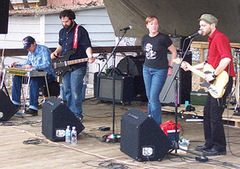 10:22 p.m.
Glossary
(Murfreesboro, Tennessee)
glossary.us
Wandering across the street to find something, anything better than KIT, I chance across this band. And in their case, I mean Band with a capital B, because half of the time, they do recall Robbie & Levon & Co. The other half of the time, they recall Lynyrd Skynyrd. At first, the sound seems to be just meat-and-potatoes rock & roll - but when it stews for a while, those two primary flavors come to the fore. A nice, rootsy surprise. One bit of advice: The gal should be miked up a bit more strongly.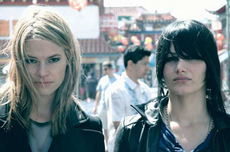 11 p.m.
Uh Huh Her
(Los Angeles)
uhhuhher.com
How could I resist seeing a band named after a P J Harvey album? Alas, after hearing them play a few numbers, they make it relatively easy to resist. Sure, the audience is filled with a flock of punk girls - and the punkish girls onstage (the blonde on bass, the other one on guitar) seem to have the right subdued attitude. But it's all a bit too twee for me, a punk/pop Jell-o that never really gels.
11:40 p.m.
Raya Yarbrough
(Los Angeles)
rayayarbrough.com
Lookin' good, Raya - and sounding good, too. Having seen her once before and then having reviewed her album for S&V (click here), I decide to catch up with Raya to find out if my initial impressions can be confirmed. Can they ever. In spades. If anything, Raya is even more sure of herself now - to the point where she has no fear in coaxing her partially pickup band through a new number, "When Galaxies Collide." You know that things might get dicey when your pianist, bassist, and drummer exchange glances that seem to say, "Can we do this?" But she wills them on valiantly enough - the mark of a true trouper, and a committed artist.
1 a.m.
Yeasayer
(Brooklyn)
yeasayer.net
And I close the night with one of the other buzz bands of the festival (considering that Vampire Weekend is The Buzz Band). And what a compelling buzz they make. How compelling? Well, at the end of a very long (second) night, I'm tired, hot, and ready for bed. But Yeasayer compels me to stay and hear almost their entire set, full of sounds both natural (driving bass) and intriguingly artificial (mucho electronics on keys and drums). It's indie rock, both old and new. It's tribal, both original (African rhythms) and borrowed (Peter Gabriel). Unfortunately, there's a wink link: the singer, who's voice sounds uncomfortably close to what you might hear if Strother "Failure to Communicate" Martin decided to whoop it up. Then again, the vocals do come across like one more exotic ingredient in the entire fascinating mix. Keep an eye (and both ears) on these guys.
And as I finally leave for bed, I notice the following sign posted over the bar at Emo's Annex: "There are no f---ing drink specials. Everything is special. Welcome to SXSW, suckers!" I'm lovin' it! -Ken Richardson
LATEST VIDEO