SXSW, Day 1: Wednesday, 3/12
Hey, here's an official SXSW logo! As you may have seen from the S&V home page, our Web man Rob Medich was able to grab one (those computer guys are, y'know, adept). So, inspired by his adeptness, I finally found one, too. No more ripping off The Austin Chronicle (see my previous post).
Anyway, yesterday was indeed Day 1 at SXSW 2008, and here's my report on what I heard. Apologies for the delay, but if you think it's always quick and easy to blog, think again! Computer troubles, band Web-site troubles, download troubles - you name it! Not to mention the fact that I did have to check out Lou Reed's keynote interview this morning, which included much of interest for S&V readers. But I'm getting ahead of myself. Read on for Day 1, by yours truly, Ken Richardson.
5:40 p.m.
Dragonette
(London)
dragonette.com
Hmmm, nice photo, that. Wish I could say the same about the music. At the annual Canadian Blast party, this electropop foursome (indeed originally from Canada but now based in London, although they apparently still have a Canadian contract - confusing!) inform us that some of their gear never made it to Austin from Toronto. So, okay, I cut 'em a little slack for that. But just a little.
Because, unfortunately, this is dime-a-dozen stuff. A bit less attention to the "electro" and a bit more attention to the "pop" would be wise. And as for lead singer Martina Sorbara, enrollment in both Vocal School and Charisma School would be wise as well. Her voice is as thin as one of those breath-mint sheets, and basically, she doesn't know how to work a stage. C'mon, girl, you're the frontwoman. I don't care if it's a day party on Wednesday. Work it!
Nice photo, though.
8 p.m.
Black Joe Lewis & the Honey Bears
(Austin)
Lewis's "official" MySpace page, as listed in the SXSW handbook, seems to have lapsed. But you'd do well to search for him elsewhere on the Web, because he could be a rising star.
Ike Turner lives! Launching the opening time slot on the first night at usual punk-rock dive Emo's, out comes guitarist/singer Lewis and his white-shirted, nearly all-white band, complete with three-man horn section. And in the same way that Turner went down to the crossroads of rock & soul, Lewis rockets out of the same intersection. With trash-can guitar solos. And Otis emotin'.
But as I listen, I wonder if, by both playing and singing, Lewis is holding himself back in each department. Could he be a better guitarist if he stopped singing? Could he be a true singer if he put down the guitar? Almost on cue, the guitar is off, and he turns his vocals loose on one song; better, but not transcendent (needs more guttural depth). And then, almost on another cue, he stops singing and just plays; again, better, but not transporting. Seems he can only get so far - and his band, though great at churning a riff, rarely branches out from there.
Still, he and they are young; give 'em time. At this show, I certainly don't see the likes of early Jimi Hendrix with the Isley Brothers, but I hear enough to win over the folks in a punk-rock dive.
8:50 p.m.
(Unknown)
Not the band called Unknown (which I'm sure does exist, somewhere), but an unknown band I stumble across in front of Seattle's Best Coffee on the corner of Congress and 4th. (Can't get their name; have to keep moving to the next official gig.) Busking? Authorized to be there? Whatever, you've got your two guitars, bass, and drums, just bashing it out for an enthused bunch of onlookers. The coffee achievers inside look a little bewildered.
9 p.m.
We Were the States
(Murfreesboro, Tennessee)
myspace.com/thestates
"Prog-pop," recommended someone in the Chronicle. As if! I hear neither! This band is so messy, so all over the place, that it sounds like several different bands at once. With a nondescript shouter up front. Lotsa feedback and other technical difficulties don't help. Two songs, and I'm gone.
(Before you say, "What? He only stayed for two songs? How Maxim-Black-Crowes-review of him!" But no, not the same thing here at SXSW. If a band doesn't impress you in a couple of songs - and if there's really nothing to make you believe that they'll impress you later - you're allowed to hightail it to one of the other 80 clubs and venues to see if one of the other 80 bands in that same time slot can impress you more.)
9:15 p.m.
Cassius Khan
(Edmonton, Alberta)
cassiuskhan.impendo.com
And so I hightailed it to a world-music showcase to check out Navruz, a band from Uzkbekistan. But they apparently never made it to SXSW. Instead, I found Cassius Khan, who, according to his Web site, "is the only professional performing artist in the world who can play tabla and sing Gharzals simultaneously - a phenomenon unheard-of in the Indian classical-music scene." Not being an expert on the Indian classical-music scene, I'll take his word for it.
Ravi Shankar lives! Well, yes, he actually does still live - and yes, I know that Shankar is a sitarist, not a tabla player. But hearing Khan gets me thinking of the days when Shankar was celebrated by people who went down to the crossroads of rock & raga, as it were. And anyway, Khan is accompanied by both a sitarist and a harmonium player - all very nice, understated/intense Indian music. From Edmonton!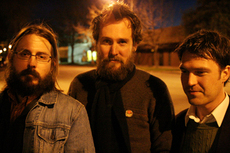 10 p.m.
43 Songs About 43 Presidencies
(Sacramento)
standardrecording.com
My first big find of the fest: These guys are indeed billed as you see here, but according to their label's Web site, the "band" itself seems to be called: Of Great and Mortal Men. Yet according to Pitchfork, the project they're plugging (still to be released, apparently) goes by the full name: Of Great and Mortal Men: 43 Songs About 43 Presidencies.
Tonight, we get a total of 6 guys playing 8 songs about 8 presidencies, some with the band's introductory explanations as noted: "Rutherford B. Hayes" (mostly about his beard), "George H.W. Bush," "Zachary Taylor" ("he had the most face"), "Andrew Jackson" ("he was a jerk; he was, like, a genocidal f---wad, so f--- him!"), "Warren G. Harding," "Benjamin Harrison," "Ronald Reagan," and one of the generals who became President, though they don't say (and I can't catch) which one.
Leading the festivities is Christian Kiefer (at left in photo), who wrote the songs with Matthew Gerken and Jefferson Pitcher. And the songs are great. "Hayes" is hard Americana, "Taylor" breaks into a spirited hoedown, "Reagan" comes across like a truly touching Steve Earle song (I kid you not), and "Jackson" - ooooo, this is the best, a real scary thing, like the Coen Brothers taking over A Prairie Home Companion. The band is ragged but right, with a remarkable lead guitarist. By all means, track down the three-disc boxed set whenever it sees the light of day.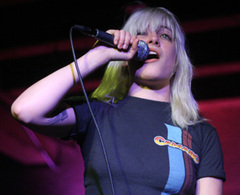 10:50 p.m.
Be Your Own Pet
(Nashville)
beyourownpet.net
This is solidly in the category of my Rule No. 2 for SXSW-going (see that previous post): It's Okay to See So-Called Buzz Bands That You've Never Seen Before. And talk about a buzz. Oh, baby.
This is the antithesis of those wannabes in Dragonette. First, the band is tight tight tight. Dime a dozen? Forget it, they can stop on a dime. Yes, we're basically talking three-chord punk here, but it has true dynamics and is irresistibly infectious. Keeping it all together is drummer John Eatherly, the very definition of precision and power.
But, naturally, the photo here shows the frontwoman (at a gig earlier this month): Jemina Pearl. And unlike that Dragonette girl, Pearl has both pipes and charisma to burn. She's all over the stage, and you can't take your eyes off her.
New album out this Tuesday: Get Awkward. Get it.
11:20 p.m.
Great Lakes Myth Society
(Ann Arbor)
greatlakesmythsociety.com
These guys were originally called The Original Brothers and Sisters of Love, and before I came to SXSW, I knew them only from that previous incarnation and from their first eponymous GLMS album. And that stuff recalls the grandeur and the seaworthiness of the Decemberists.
So I'm quite taken aback tonight to hear them sounding much tougher. Possibly that shift in direction can be heard on their second album, 2007's Compass Rose Bouquet, which I don't have. At any rate, despite their mandolin and their accordion and their sport jackets, they can rock.
12 a.m.
Bo Pepper
(London)
myspace.com/bopepper
Guitar, bass, drums. Hooks, hooks, hooks. And that's no Little Bo Peep up front; that's Bo Pepper, and she has a full, sweet voice and more than enough smarts to go around the room. You like absolutely pure pop? This is for you, coming across as if the band has its own Sixties-radio jukebox stuffed with two-minute-thirty treats.
And I'd like to commend the sound guy at this B.D. Riley's Pub gig for crafting the best band sound I've heard all night. Punchy but perfectly balanced, and just loud enough.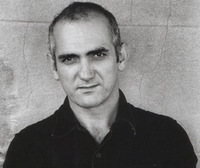 1 a.m.
Paul Kelly
(Melbourne, Australia)
paulkelly.com.au
As I tipped yesterday in my Rule No. 3: It's Okay to See Known Entities If They Rarely Play Stateside. And so here's Paul Kelly, solo acoustic for the first few numbers and then joined by his nephew on harmonies and second guitar. What a perfect way to end the first night at SXSW.
He doesn't disappoint. From old favorites like "Dumb Things" to new material off Stolen Apples (released last year at home, due soon here), Kelly sings beautifully, his voice ever so full of nuance. In this week leading up to St. Patrick's Day, he even plays his Christmas song, "How I Make Gravy." The crowd seems to be stocked with Aussie faithful, who know the songs and applaud lustily.
A wonderful thing happens during the opening song, "Just About to Break." The bassy bleedthrough from Emo's Annex across the street is pretty strong. Suddenly, it stops, just in time for Kelly to sing the a cappella line: "My heart, my heart is full of love." Then, as if mimicking his heartbeat, Emo's bass comes back. Shivers!
It's amazing that Paul Kelly remains unknown in the States. If you love singer/songwriters, you owe it to yourself to get Stolen Apples.

. . . AND THAT, MY FRIENDS, is the end of Day 1. Ten total bands. Now, before the Day 2 lineup begins, I must run. See ya back here tomorrow. -Ken Richardson