S&V Shootout: 3 DTV Converters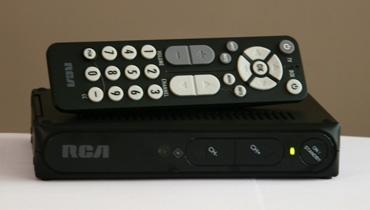 Americans are fearing the future. And not just because there's a fourth Jurassic Park movie in the works.
In February 2009, analog TV broadcasting in the United States will end. From that point forward, it'll be digital only. Most Americans think this means they'll never see American Idol again unless they spend a fortune on a digital TV converter box. Sadly, they're wrong.
The only people who need to buy a digital TV converter are those who get their TV signals from an antenna (not from cable or satellite), and who haven't bought a new TV in quite some time. All the larger sets made in the last couple of years already have digital tuners, and as of March of this year, all new TVs of any size must have digital tuners.
Fortunately, even the frugal and tech-indifferent folk who need digital TV converters can get help from the U.S. government. Just call 888-DTV-2009 and the U.S. Department of Commerce will be happy to send you a coupon for $40 off the price of a digital converter. Many of these converters have dropped to $50 or $60, so your cost is a mere $10 or $20. (One converter, the EchoStar TR-40, costs just $39, making it essentially free - but with no front-panel controls, it seems like a dicey buy.)
Even at $10, though, no one wants to get stuck with a lemon. And you can't tell much about these converters by brand name. Most of the marques are either unfamiliar (AccessHD, Digital Stream, Insignia) or have suddenly and inexplicably risen from the grave (GE, Magnavox, Philco).
Sound & Vision decided it was high time someone lent a helping hand to the confused cheapskates of America. The command came down that an editor with a discerning eye and ear would put some of these boxes to the test and find one or two safe buys. Since no such editor was available on short notice, the staff settled for a confused cheapskate: me. I'm not a big TV fan in the first place, and once I saw what digital TV had to offer, there's no way I was going to spend $50 or $100 a month on cable or satellite. Digital TV is free - and that's good enough for me.
Every time you change channels on the RCA, a window tells you what you're watching and what's on next.
LATEST VIDEO