S&V Picks: Summer Travel Fun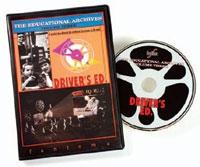 Driven to Extremes Take a road-trip refresher course with The Educational Archives: Driver's Ed (Fantoma Films, $25). This retro-cool DVD unspools ten classroom film shorts - with titles like "Joy Ride," "Alco Beat," and "The Last Prom" - that alert teens to the dangers of delinquent driving. The biggest kick is the optional "classroom experience" Dolby 5.0 soundtrack, which mimics the familiar and oddly comforting ambience of a worn-out schoolroom projector.
It's in the Bag
Kids today won't settle for coloring books and playing "license plate" - they want multimedia, and with the Audiovox VBP5000 ($599), they get it. This "DVD/Video in a Bag" can be rigged up in the car for backseat viewing, then easily removed and set up in the hotel, poolside, or in a vacation cabin. The VBP5000 has a 5 1/2-inch LCD screen and two headphone jacks and can handle a full selection of boredom busters - DVDs, VHS tapes, and CDs, including ones with MP3 files. The kids can even run their game system through it. Greetings from Asbury ParkThere's a walking tour on the edge of town: Stan Goldstein and Jean Mikle lead you through Bruce Springsteen's now-mythic junglelands in Rock & Roll Tour of the Jersey Shore ($20). Nearly 200 sites are covered - from the little house where the Boss wrote "Born to Run" and "Thunder Road," to the tree he posed against for a "Born in the USA" photo shoot, to the location of his dad's favorite bar. Springsteen's shore compadres the E Street Band, Southside Johnny, and Bon Jovi, as well as other towns around Asbury, like Freehold, Belmar, and Sea Bright, share in the myth treatment. (njrockmap.com)
All the Way to Memphis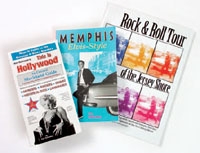 The King is gone, but he's not forgotten - not if Cindy Hazen and Mike Freeman, authors of Memphis Elvis-Style ($12), have anything to say about it. Dyed-in-the-Naugahyde fans will find this lovingly detailed guidebook a veritable Bible, but even the merely curious will be drawn in by the prosaic parade of places where Elvis took care of business. Sidle in late at the Gridiron Restaurant and order a cheeseburger still cooked the way The Man liked 'em, or brave Libertyland's "Zippin Pippin" roller coaster (sit, King-style, in the first or last car). And if the crowds at Graceland are getting you down, tour (by appointment) Elvis's Audubon Drive home, where he recorded six of his early No. 1 hits. Authors Cindy and Mike are now the proud owners. (901-761-1838, elvistyle.com) Maps & Legends Sure, the Hollywood Chamber of Commerce can steer you toward a plethora of standard-issue tours, but where's the thrill in that? Let Ken Schessler's This Is Hollywood: An Unusual Movieland Guide ($6) be your flashing neon arrow pointing to such wonders as the weedy lot (now a driveway) where the Black Dahlia's body was found, the spot where James Dean ate his last supper, and the salon where Marilyn Monroe got her first bleach job. And if you get weary of the morbid stuff, check out the Best Preserved Movie Theater in Los Angeles (it's the Orpheum). (members.aol.com/kschessler/wizzj.html)
Dive-In Theater
You can see stars under the stars on "dive-in" movie nights at Loews' Coronado Bay Resort in San Diego (www.loewscoronado.com). Enjoy a communal big-screen experience minus the sticky floors, creaky seats, and obstructed views of your local megaplex. Numerous Florida locales are also taking the "dive-in" plunge, including Orlando's Doubletree Castle Hotel (doubletreecastle.com) and, especially good for kids, the pirate-themed bash held twice a week at the TradeWinds Island Grand Resort in St. Pete Beach (islandgrand.tradewindsresort.com).
Kansas City Swings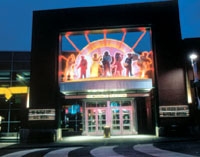 Just because jazz is spontaneous and freeform doesn't mean you can't build a damn good museum around it. Located in Kansas City's historic 18th & Vine District, the American Jazz Museum houses not only exhibits celebrating legends like Armstrong, Ellington, and Ella but also features a music studio where you can let loose with a little interactive improvisation. And you can start the kiddies off right in the Wee-Bop Room, where the under-eight set learns to take five. After hours, part of the museum morphs into a real, working, jiving jazz club. (Adults, $6; children under 12, $2.50; 816-474-8463; americanjazzmuseum.com)
LATEST VIDEO