S&V 2005 Entertainment Awards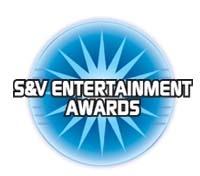 Top 10 CDs of 2005
The White Stripes Get Behind Me Satan (Third Man/V2) Fleetwood Mac's Tusk meets ... Jack and Meg!
Porcupine Tree Deadwing (Lava/Atlantic) Standard-bearers of the new progressive rock.
Kanye West Late Registration (Roc-A-Fella) Rapper King floats and stings.
Trey Anastasio Shine (Columbia) A personal high in the studio.
Beck Guero (Interscope) Dig the lo-fi brouhaha!
The Rolling Stones A Bigger Bang (Virgin) "Dead men" come out rocking.
Bruce Springsteen Devils & Dust (Columbia) A spellbinding set of deep, detailed narratives.
Sufjan Stevens Illinois (Asthmatic Kitty) Brian Wilson meets Philip Glass.
Robert Plant and The Strange Sensation Mighty Rearranger (Sanctuary/Es Paranza) Another step forward - by a band full of ideas.
TIE: EELS Blinking Lights and Other Revelations (Vagrant) Sleater-Kinney The Woods (Sub Pop) E remembers, S-K rages. Both bring the passion.
Top 10 Movies of 2005
The Incredibles (Pixar/Disney) Incredibly entertaining movie, demo-quality DVD - and fabulous extras, darling.
Raging Bull (MGM) The fight film that's never been beat gets the upgraded picture and sound it deserves.
Laura (20th Century Fox) Killer noir comes restored, with solid commentaries and bio-documentaries.
Sideways (20th Century Fox) Funny meets profound in a perfectly satisfying blend.
Ran (The Criterion Collection) King Lear leaps off the stage to spectacular effect.
Sin City (Dimension) Innovative filmmaking gets a DVD with looks and extras to burn.
TIE: Hotel Rwanda (MGM) L'Eclisse (The Criterion Collection) A humanist drama and a modernist masterpiece - both profoundly affecting.
The Aviator (Warner) A great, Oscar-winning mix of Hollywood glamour and disease-battling biography.
Star Wars: Episode III - Revenge of the Sith (Lucasfilm/20th Century Fox) An epic of myth and technology that makes for thrill-filled home theater.
King Kong (20th Century Fox) The classic adventure is restored and accompanied by four hours of documentaries.
The Top 5 Games of 2005
God of War (Sony; PS2)
Resident Evil 4 (Capcom; Gamecube, PS2)
Shadow of the Colossus (Sony; PS2)
Burnout Revenge (EA Games; PS2, Xbox)
Call of Duty 2 (Activision; Xbox 360)