SunBriteTV Says Thin is In for Outside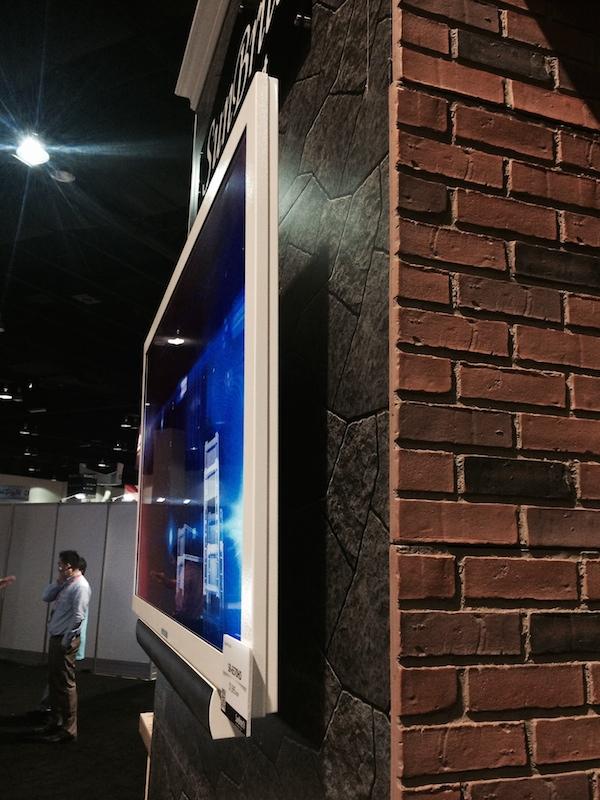 Outdoor TV and accessory manufacturer,
SunBriteTV
, showed off to CEDIA attendees the company's full line of Signature Series outdoor TVs for residential use. As with SunBriteTV's previous Signature Series models, the new TVs are designed to be installed and left on display outside permanently thanks to weatherproof technology that protects the TV's innards from salt air, humidity, rain, snow, dust, and even insects. The new Signature Series models range in screen sizes from 32-inches to 65-inches (pictured above) and have a depth of only 3.5 inches. The new sets are both the slimmest and lightest of any TVs yet made by SunBriteTV.
One reason for the surprisingly thin form factor is that the new models utilize internal heat routing and dispersion that eliminates the need for bulky internal fans and vents. SunBriteTV says the TVs are rated for temperatures from -24 degrees to 122 degrees F. The exterior chassises are made from rustproof, powder-coated aluminum and are available in Black, Silver, and White finishes.
The new models include the 32-inch SB-3270HD ($1,495), the 46-inch SB-4670HD ($2,895), the 55-inch SB-5570 ($4,095), and the 65-inch SB-6570HD. All models are available now.