Speaker, Speaker on the Wall
Photos by Tony Cordoza The next time you go to the movies, take a look around for the speakers. Where'd they go? Pull back the screen and you'll find the front left, center, and right speakers stashed behind it, while the side and rear arrays are mounted high up on the walls. The idea is to make the audio system unobtrusive, and it works.
The average home theater, by contrast, is more like a showcase for gear. Stacks of black boxes and amps, tower speakers positioned several feet out from walls, a huge, bulky HDTV - you're lucky to find a place to sit down. High-performance it may be, but high style it ain't.
Taking a fashion tip from flat-panel plasma and LCD TVs, speaker manufacturers are starting to offer thin alternatives to traditional boxy designs. Most of these speakers are made to mate with flat TVs and can be mounted either directly on the wall beside them or on slim stands. To survey the trend, we called in a septet of stylish, wall-mountable surround sound systems from B&W (the FPM system, $4,650), Canton (CD 50 system, $1,749), Definitive Technology (Mythos, $3,694), Jamo (D 400PDD, $2,994), MartinLogan (Fresco system, $5,970), and Polk Audio (RM7600, $1,826). And for a little more spice, we added an on-wall system from Sonance (SilverScreen 50, $2,235), a company best known for its in-wall and architectural speakers.
Audiophiles are quick to point out the problems that can come with placing speakers on a wall. These include poor imaging and a bloated lower midrange, not to mention rattling from the mounting hardware. We didn't attach the speakers to the wall during testing, instead simulating that setup by placing them on stands set flush against it. Most of the companies here offer optional stands for their speakers, so you can place them alongside a flat-panel TV that's on a table or stand - the exact type of installation we have in our lab. With most systems, this option will definitely give better performance than wall mounting. PDF: Fast Facts
Canton CD 50 SystemIf you thought on-wall speakers had to be either big or expensive, this system is Canton's attempt to prove you wrong. The least expensive system of the group, this compact assemblage consists of three CD 50s, a model that allows for horizontal or vertical placement and can serve as a front, surround, or center speaker; a pair of CD 10 satellites, which can do double-duty as left/right front or surround speakers; and an AS 25 SC subwoofer. The speakers' silver-metallic finish gives them a space-age look that's right at home with a plasma or LCD TV.
Housed in a wedge-shaped aluminum cabinet, the CD 50's considerable heft seems at odds with its compact size. The speaker comes with hardware for wall mounting - the placement for which it appears to have been designed. Its little brother, the CD 10, has the same kind of aluminum cabinet and can be attached to the wall with the supplied mounting hardware or placed on Canton's optional LS 90 stands ($62.50 each). The silvery AS 25 SC sub looks pretty big next to the rest of the system, but in the world of subwoofers its size is actually modest.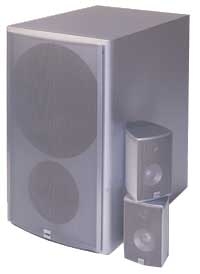 System setup was uneventful except for the strain of inserting my cables' spade-lug connectors into the tiny speaker terminals on the CD 50s and CD 10s. These were obviously designed to take bare wire, so match your cables accordingly. Because the CD 10s are so small, I mounted them on high stands - higher than the 3-foot LS 90 stands - against the room's back wall to help optimize their dispersion.
The abandoned-church scene from the new DVD of X-2: X-Men United offered a good test of the system's capabilities. Dialogue was clear, and sound effects came across in a precise, pinpoint manner. For example, when Storm and Jean first enter the cavernous church, the sound of a startled flock of pigeons taking off created a believable representation of the large space. But in the earlier scene in a museum where Jean's telepathy goes into overdrive and she starts reading too many people's thoughts, the voices coming from the surround channels always seemed to be emanating from a particular speaker, which tended to collapse the rear soundstage.
The last time I reviewed a Canton system, I learned that the company makes excellent subwoofers. This time out was no different. The AS 25 SC easily weathered my sub torture test, Squarepusher's "The Exploding Psychology" (from their CD Go Plastic), hitting all the lows and tracking its machine-gun transients without missing a beat. It also put in a solid, tuneful performance on guitarist Bill Frisell's "Blues Dream" from the Bill Frisell with Dave Holland and Elvin Jones CD. But this track also revealed the fairly rough integration between the sub and the CD 50s. The system's midrange was noticeably lean, with guitar and ride cymbals lacking a sense of natural openness and ambience.
Switching to the multichannel Super Audio CD reissue of Steely Dan's Gaucho confirmed my diagnosis. The high-hat cymbals - which already sound bright and crisp on the recording - were too crisp and dry. It seemed like the system was voiced to cut through the most muffled of living-room environments, one full of big pillows, shag rugs, that sort of stuff. But the bass guitar and kick drum on "Hey Nineteen" sounded very punchy and clean - yet another testament to the awesome AS 25 SC subwoofer.
With a total price of $1,749, Canton's CD 50 system is an affordable, slick-looking entry into on-wall speakers. It has a great subwoofer and performs well with movie soundtracks, but music lovers may want to hold out for something better.
LATEST VIDEO