"Source Code," "Super," "Win Win" at SXSW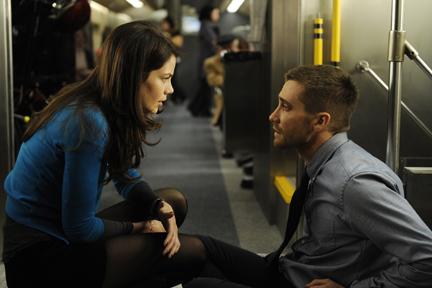 Why does Jake Gyllenhaal suddenly find himself on a commuter train headed to Chicago? And why is Michelle Monaghan so interested in him?
Those are just two of the puzzles posed by Source Code, which had its World Premiere as the featured opening-night selection at the South by Southwest (SXSW) Film Festival.
Ken Richardson here, your Entertainment Editor checking in from Austin, Texas. As longtime S+V readers know, I've been covering the SXSW Music Festival for more than 10 years. But considering that 2011 is the 25th anniversary of SXSW itself, I thought I'd mark the occasion by covering everything that SXSW has to offer now: Music, Film, and Interactive.
Watch this space for a few blog reports. A print roundup will appear in our summer triple issue (June-July-August).
Meanwhile, back to our story . . .
As it turns out, Gyllenhaal finds himself on and off that commuter train several times during the course of Source Code. How so? I won't reveal anything more here, except to say that Vera Farmiga also stars - and in only his second feature (after Moon), director Duncan Jones delivers a flick that's both nail-biting and thought-provoking. The movie opens nationally on April 1.
Also super at the SXSW Film Festival (so far) . . .
Super, with Rainn Wilson as a self-made superhero named The Crimson Bolt - teamed with his sidekick, Boltie, played by Ellen Page. Wilson is typically wonderful, but Page is deliriously off-the-wall. Liv Tyler, Kevin Bacon, and Nathan Fillion are here, too. Writer/director James Gunn admitted at SXSW that his violent laughfest may not be for everyone, but I had a blast. The movie will have a limited opening on April 1.
For an entirely different sort of film (with a gradual rollout that starts this Friday the 18th), check out: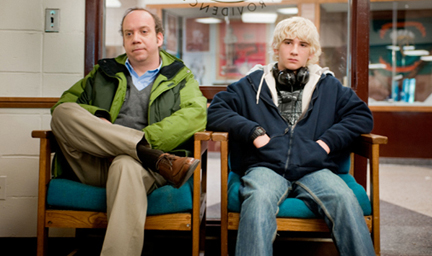 Win Win, wherein the always great Paul Giamatti has to deal with a runaway teenager, nicely played by newcomer Alex Shaffer. Also starring Amy Ryan and featuring Jeffrey Tambor, the film has lawyer/wrestling-coach Giamatti dealing with himself, too, as deftly directed by (co-writer) Thomas McCarthy.
It's a good year for music documentaries at the SXSW Film Festival, to wit:
Foo Fighters: Back and Forth - The entire 16-year story, culminating with the recording of the band's new album, Wasting Light. (Our summer print issue will have much more ado about that.)
It's About You - John Mellencamp on tour in the summer of 2009 and recording his current album, No Better Than This.
The Other F Word - That would be "fatherhood," and the fathers in question are former punk rockers, with a focus on ex-Pennywise singer Jim Lindberg.
Taken by Storm: The Art of Storm Thorgerson and Hipgnosis - Not just album covers but icons, including Pink Floyd's The Dark Side of the Moon and Led Zeppelin's Houses of the Holy.
At your local "art-house cinema" (ahem), keep an eye out for these:
Small, Beautifully Moving Parts - Pregnant woman who depends on her cellphone and other tech gadgets goes into the West to find her mother, who has gone "off the grid."
Charlie Casanova - An Irish sociopath terrorizes family and friends. Deeply disturbing but worth the trip.
Finally (for now), in the category of Midnight Movies, The Divide has the likes of Michael Biehn and Rosanna Arquette slumming in a nasty thing about strangers in a basement, post-apocalypse. Pass! Instead, go for The FP - if you can stand its constant stream of expletives. Yes, the behavior is dubious, but it's also hilarious, as this parody has two gangs facing off not with knives or guns but with ridiculous epithets, all revolving around a tournament on Dance Dance Revolution-like arcade machines. I laughed 'til I cried, lemme tell ya.
- Ken Richardson
LATEST VIDEO