Sound & Vision's Vinyl Listening Club
SET ME UP: Handling and cleaning LPs is a ritual not unlike decanting a great port wine.
Micah Sheveloff reports: Collectors take great pride in how carefully we preserve our collections. But, yes, I do actually play my records. My vinyl is here to be enjoyed, not revered from a distance. In the photo sequence below, I'm preparing a record for an official spin for the S&V Vinyl Listening Club. Here's how I did it.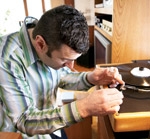 Above: A clean stylus (a.k.a. the "needle") is mandatory. I use Last Power Cleaner (LAST factory) and a Last microfiber brush (like the ones used to apply nail polish) to remove any foreign material. I clean the needle before each play. Other accessories I've used and liked include Onzow Zerodust stylus cleaner (NeedleDoctor needledoctor.com/Onzow-Zerodust), Gruv Glide anti-static record cleaner (Gruv-Glide), and the Discwasher D4 kit (NeedleDoctor ).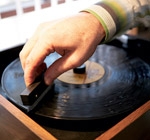 Above: I apply a misted blend of water and alcohol to the surface of every LP I buy before playing it, and I use the powerful VPI record vacuum (VPI Industries, Inc.) to clean out whatever lurks deep within the grooves. This helps reduce the overall noise floor as well as the dreaded, infamous "pops and clicks" while listening. A clean record is usually a quiet record!
Above: Admiration time. Looking at a record made from virgin vinyl using a strong backlight, you can see right through the material, even heavy premium-grade pressings, because it's not clouded by impurities. Typically, records made from virgin vinyl are quieter and exhibit better separation, greater dynamics, and an even tonal balance.
Sooner or later, I knew I would once again feel the need to heed the calling of the almighty LP. Like many, I put vinyl records aside when the CD became the dominant music-playback format,
I eagerly amassed shelves full of shiny discs that would rival the inventory at a Columbia House fulfillment center. But I could never truly let go of my record collection. Sure, I had thinned it out somewhat, but in recent years I found myself sifting through record bins and scouring eBay for those special finds. American Blues' 1968 debut Do Their Thing, featuring a pre-ZZ Top Dusty Hill and Frank Beard, on Uni? Check. The self-titled Dream Syndicate EP from 1982, the opening salvo from the paisley-underground pioneers, on Down There? Check. Porcupine Tree's 1993 acid-prog opus Up the Downstair, an English import on Delirium? Check. Simply Vinyl's 1998 double-LP 180-gram virgin-vinyl pressing of the Who's seminal 1969 rock opera Tommy? Check.
Hunting and gathering these wax gems made it harder and harder to ignore that constant nagging voice in the back of my head. It kept gnawing at me like, well, a broken record. "Back to vinyl," it whispered in a breathy, echoey tone suspiciously like Roger Waters's on Pink Floyd's "Careful with That Axe, Eugene." "Back to vinyl. Back to vinyl." I could ignore my calling no more. In my "Track One" editorial in the July/August 2007 issue. I declared: "My name is Mike. I am a vinyl addict."
Last summer, fellow audiophile and CE industry vet Micah Sheveloff and I decided to commence the "Vinyl Sessions," for which I would regularly drive 205 miles roundtrip to his humble abode in Connecticut in order to indulge in our analog tendencies. (You can find some of these sessions detailed in the archives of the S&V Bitstream blog on our Web site.) As word spread about our summits, others wanted to join in our vinyl reindeer games. Finally, when noted record producer Rob Fraboni (Bob Dylan's Planet Waves, Bonnie Raitt's Green Light, Keith Richards's Jamaican-tinged side project Wingless Angels) expressed his desire to sit in, I decided the time was right to open up the circle and call for a super-session sonic summit. And thus the S&V Vinyl Listening Club was born.
On a crisp late-February Friday morning, I picked up Rob at his home in Connecticut and drove to Micah's with a black Amoeba Records shoulder bag full of vinyl in tow. After swapping some recording-studio stories, we hunkered down in the listening room's sweet spot and I called out to Micah to cue up the first selection: Eric Clapton's "Hello Old Friend," the first track on Side 4 of the Complete Clapton four-LP box set (Reprise, 2007). "Friend" originally comes from Clapton's 1976 Polydor effort No Reason to Cry, produced by, you guessed it, Mr. Fraboni. The song was a mild FM hit, driven by E.C.'s sing-songy/seesaw guitar line, Richard Manuel's keyboards, and a cheerful chorus. Right off the bat, however, we knew something was up. "This new vinyl is taken from digital tapes," Rob noted. "It's a bit harsh, but very accurate and very active in the midrange. The graininess I heard on the high end wasn't there originally, though."
LATEST VIDEO