Soul Full of Heart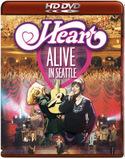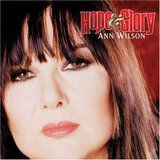 Where does the time go? It has already been 3 years since Heart's last studio album, the fine Jupiters Darling. Fans waiting for the next one can tide themselves over with several projects, both band and solo.
First, there's the just-released Dreamboat Annie Live, which is exactly what the title says. Similar to Eagle Vision's TV-on-DVD series of "Classic Albums," Shout! Factory has launched a DVD (and CD) series of "Legendary Albums Live," from shows first aired on DIRECTV. But whereas the Eagle Vision DVDs examine the original studio recordings, the Shout! Factory idea is to focus on a contemporary concert of an entire album, track by track, in the original running order.
And the first entry, Dreamboat Annie, certainly qualifies as a legendary album. Home to "Magic Man," "Crazy on You," and so much more, Heart's 1976 debut (now 31 years old!) has proved hugely influential. On Dreamboat Annie Live, Ann and Nancy Wilson and their current band (left) are seen playing the album at the Orpheum Theatre in Los Angeles on April 17, 2007. Of course, "current band" means that the original guys who helped create the Heart sound - guitarist Roger Fisher, keyboardist/guitarist Howard Leese, bassist Steve Fossen, and drummer Michael Derosier - are nowhere to be found. Which, in turn, means that things here lack much of the finesse that those musicians brought to Heart.
So, yeah, this is a different-sounding and different-looking band, but one thing has barely changed: the power of Ann's voice. How did she ever take such good care of her instrument?
Further, true fans will relish the first encore here: "Mistral Wind." I will never forget that in a Rolling Stone interview many years ago (probably conducted by Nancy's then husband-to-be, Cameron Crowe), the band cited "Mistral Wind" as the one track that, it hoped, would stand the test of time as the band's own "Stairway to Heaven," or something along those lines. And even though it thuds a bit here, it still sounds great. Speaking of Led Zeppelin . . . since another idea of this series is to have the band encore with covers of artists that influenced it at the time, Heart's encore continues with "Black Dog" and "Misty Mountain Hop" as well as Pink Floyd's "Goodbye Blue Sky" and the Who's "Love, Reign O'er Me."
The DVD is in 16:9 widescreen and Dolby Digital 5.1 surround sound. Extras include reflective interviews with Ann and Nancy and a gallery of vintage photos/clippings. The concert alone is also available on CD.
Next up: Alive in Seattle - back on Aug. 8, 2002. Yes, this is the same gig that was released in 2003 on an Image DVD, an Epic/Legacy CD, and even an Epic/Legacy surround SACD. But Image has reissued it on HD DVD - which is only fitting, as the concert was shot in high-def. Alas, I haven't found time to live with the HD DVD yet, but I can tell you that what was once Dolby Digital and DTS surround sound on the standard DVD is now Dolby Digital Plus and Dolby Digital TrueHD. Unfortunately, it's all still in 5.0 channels - yup, no subwoofer. But you do get 16:9 widescreen.
"Magic Man" and "Crazy on You" are here, of course, as are "Mistral Wind" and "Black Dog" (and a different Zeppelin cover, "The Battle of Evermore") as well as Elton John's "Mona Lisas and Mad Hatters." Plus "Barracuda," "Love Alive," "Straight On," "Dog and Butterfly," "These Dreams," "Alone," and more on this career-spanning set - all the way up to several then-new tracks ("Sister Wild Rose," "Heaven," "Break the Rock"). Meanwhile, the band here (above) - sharing only drummer Ben Smith from the Dreamboat Annie Live lineup - sounds decidedly friskier than what Heart would become 5 years later.
And finally: Ann Wilson's first solo album, Hope & Glory, released by Zoë/Rounder in September. It's a collection of covers, and some of the familiar suspects are here: Elton John (who actually duets with Ann on "Where to Now, St. Peter?"), Pink Floyd ("Goodbye Blue Sky" again), and, natch, Led Zeppelin (a nicely deconstructed "Immigrant Song"). But then there's stuff like Lucinda Williams's "Jackson" (with k.d. lang) and Neil Young's "War of Man" (with Alison Krauss) - stuff that helps give this album, as produced by Ben Mink, a rich, organic feel.
Sister Nancy stops by for the Pink Floyd track as well as two Youngbloods numbers - not just "Get Together" but also "Darkness Darkness." There's a lot of darkness on this album, because Ann has Iraq and other troubles on her mind. Thus, we also get John Lennon's "Isolation," Creedence Clearwater Revival's "Bad Moon Rising" (with Gretchen Wilson), and Bob Dylan's "A Hard Rain's a-Gonna Fall" (with Rufus Wainwright and Shawn Colvin) - not to mention, hell, "We Gotta Get Out of This Place," the old Animals track in a performance with Wynonna.
It all wraps up with one new original track: "Little Problems, Little Lies," which, according to Ann, is about "a soldier in Iraq laying down to die, bewildered and summing things up." And it's a powerful end to a genuinely affecting, beautifully sung album. No bludgeony covers here, folks - just real interpretations.
So, you have to wonder: With Jupiters Darling and Hope & Glory being the last two all-new releases from the Heartfront, can we expect another fresh-sounding band effort soon? Here's hoping. -Ken Richardson
LATEST VIDEO