Sony's new 2013 home audio products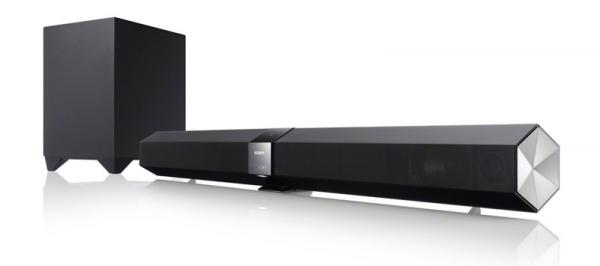 Even though Sony's one of the top brands in several audio categories, the company hasn't made much of a push with its audio products in the last few years. That all changed at an event today in Los Angeles, where Sony showed off a new A/V receiver and a new soundbar, and also announced new HTiB (home theater in a box) systems.
STR-DN1040 A/V receiver
The featured receiver is the $599 STR-DN1040, which Sony says is the first A/V receiver with WiFi, AirPlay, and Bluetooth connectivity built in. That means it'll stream from Apple mobile devices, computers running iTunes, network-attached storage (NAS) drives, and any smartphone or computer with Bluetooth.
The STR-DN1040 features eight HDMI inputs, upscaling to Ultra HD 4K resolution, and seven amps rated at 165 watts per channel. Sony's Media Remote app allows control from iOS and Android smartphones and tablets. The STR-DN840 offers a similar feature set, with 150 watts per channel and six HDMI inputs, for $449. It'll be available in June. (For more on the design of these receivers, read this interview with the chief designer.)
HT-CT660 soundbar
The $399 HT-CT660 is by far the least expensive soundbar I've seen with HDMI and DTS-HD Master and Dolby TrueHD. It's a 2.1-channel design with two two-way (midrange/tweeter) speakers and a separate wireless subwoofer. Bluetooth and Near-Field Communication (NFC) wireless are built in. It, too, is slated for June availability.
BDV-N8100W and BDV-N7100W HTiB
The new $699 BDV-N8100W and $599 BDV-N7100W HTiBs include built-in Blu-ray Disc players with Netflix, HuluPlus, Pandora, and other streaming services. Published power rating is 1,000 watts total system power, although Sony doesn't specify how it came to that number. Unlike most HTiBs, which typically use small satellite speakers, the BDV-H8100W includes three-way, 47-inch-high floorstanding speakers; the upper portion of the speakers separates for optional wall mounting. Both are available now.
LATEST VIDEO