Sony VPL-VW70 SXRD front projector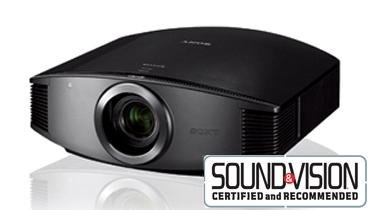 The Short Form
$7,999 / SONYSTYLE.COM / 877-865-SONY
Snapshot
A big, bold, brash 1080p projector that offers plenty of adjustment options and puts out an intensely bright, contrasty, colorful picture
Plus
• Videophiles will love the dazzling picture • Audiophiles will love the nearly inaudible fan • Star Trek-philes will love the motorized lens door
Minus
• Installers will love charging you for calibration
Key Features
• 1080p resolution • 1.6x zoom lens • Accepts 1080p/24 input signals • Motorized zoom, focus, and lens shift • Anamorphic zoom mode for constant-height lenses • Automatic lens cover • Inputs: 2 HDMI, VGA; component-, composite-, and S-video; RS-232C, 3.5mm jacks (for screen and lens-sled trigger) •7 1/8 x 19 x 18 5/8 in, 26½ lb
If Enzo Ferrari had been born in the 1970s, he'd be designing video projectors today. While car design has become boring and predictable, projector design is blossoming. Just glance over the new Sony VPL-VW70. Check out the architectural grace of the arcing top and bottom panels. Peer closer and you'll notice a subtle cerulean sparkle rising from the projector's deep-black gloss finish. What does Ferrari have to compete with this? Red. Well, whoop-dee-doo!
Projectors also offer more to excite the left cerebral hemisphere. Only recently, most models struggled to deliver adequate contrast and to deal with the high resolution of HDTV. Now some of the latest models exceed the needs of the average buyer as flamboyantly as a Ferrari does.
Sony's industrial-design team even threw in a gratuitous "wow" feature: an automatic two-piece lens cover that slides open when you power up the projector and closes when you cut the juice. But in a shocking design oversight, Sony didn't consider the sound of the door; it emits only a plasticky clunk. Enzo Ferrari never let his doors clunk.
But let's forget about sports cars for a moment and take a look at the VPL-VW70's technical particulars. It uses three of Sony's SXRD (Silicon X-tal Reflective Display) chips, so it doesn't suffer the color fringing you can see in single-chip DLP projectors. And it offers a complete complement of inputs.
One neat feature, unusual at this price point, is compatibility with anamorphic 2.35:1 motorized lenses. Lots of projectors have the internal image processing necessary to work with these lenses, which let you fill an extra-wide screen for a CinemaScope effect. The VPL-VW70 adds a trigger output for a motorized lens sled, so the lens moves into place automatically when the anamorphic zoom mode is activated. Sony doesn't sell such a lens, but the lens/sled combo is available from such companies as Panamorph starting at around $3,000.
The VPL-VW70 offers more adjustments and tweaks than Ferrari's F1 cars. All the must-have stuff like gain and bias adjustment for red, green, and blue is there. But you also get exotic goodies, like manual iris adjustment (which lets you stop down the projector's light output to improve contrast). It also has Sony's Real Color Processing (RCP), which lets you fine-tune the saturation and hue of the three primary and three secondary colors to a degree I haven't seen before.
The remote control is an installer's dream. It has so many dedicated buttons -- even for such functions as sharpness and gamma -- that the menu system seems almost superfluous. Because of these dedicated buttons, any adjustment takes only seconds. Controls behind a door on the side offer full access to the on-screen menus.
SETUP
It's easy to get a decent-looking picture out of the VPL-VW70. Just put it on a table or shelf or hang it from the ceiling and use the motorized lens-shift and zoom controls to fill your screen. A dedicated lens button on the remote accesses these functions instantly.
All of the VPL-VW70's controls and inputs are on the left side (if you're looking at the lens) rather than on the back, as with most projectors. That posed no problem for me, but it could be an issue if the VPL-VW70 is replacing an older projector with rear-mounted inputs.
A quick run-through with some test patterns told me the projector delivers the most accurate picture in its Cinema mode. But I noticed a reddish-brown cast in this mode, which turned out to be the result of a color temperature calibrated to an average of 5,964 Kelvin. That's not bad, but it's noticeably below the industry standard of 6,500 Kelvin. About 20 minutes of playing around with the gain and bias controls for red, green, and blue gave me consistent color response averaging 6,511 Kelvin -- or pretty darned near perfect.
The accuracy of blue and green left a bit to be desired, but the RCP color (saturation) controls let me fix this problem, too. Note that these controls demand a skilled hand. They're not particularly intuitive, and you could screw up the picture pretty badly when making adjustments. Also, you need special test equipment to set them correctly.
The one calibration control I struggled with was gamma. The gamma settings are arbitrarily labeled -- Gamma 1, Gamma 2, and so on -- and the descriptions of these settings in the manual are cryptic. I simply chose the gamma setting that looked best to me (a tossup between Gamma 3 and Gamma 4).
LATEST VIDEO