Sony STR-DH520 A/V Receiver
Price:
$229
At A Glance:
Low cost • 3D passthrough • Supports all current audio codecs • No onscreen display, networking, auto calibration, video upconversion • Spring-loaded speaker terminals
The audio and video performance of the Sony STR-DH520 is more than acceptable, especially given it's price and ability to pass 3D content, decode all current audio codecs, and deliver a full seven channels of amplification. However, setup and operation are limited by the features it lacks. If you can live with only five channels, there are other choices that offer similar performance, 3D compatibility, an on-screen display, and auto calibration. Step into the $400 price range and you will find increased value compared with the STR-DH520.
Features
The STR-DH520 has a surprising number of features for such a low cost. It's 3D compatible, and it decodes all the major audio codecs, including Dolby Digital TrueHD and DTS-HD Master Audio. It's also capable of decoding high-resolution 96kHz/24-bit audio, and the 24p True Cinema Mode lets you play Blu-ray movies at their native frame rate (24 frames per second) for a smooth, film-like quality.
One particularly cool feature is that this AVR will pass HDMI signals even when it's powered off. This is great for those who don't want to fire up the AVR for casual TV watching. Of course, that means you'll be listening to the TV's internal speakers, which is a far less satisfying sonic experience.
The back panel is fairly sparse compared to higher-end AVRs, but the basics are there for a small to moderate-sized home-theater system, with four HDMI 1.4 and two component-video inputs to accommodate a wide selection of high-definition sources. (However, this AVR does no video upconversion.) In addition, there are two composite-video inputs along with corresponding RCA analog-audio inputs for your legacy products. There's one digital coax input and two optical audio inputs, which will also decode most of the audio codecs except Dolby TrueHD and DTS-HD Master Audio, which both require HDMI. All inputs let you assign names to them.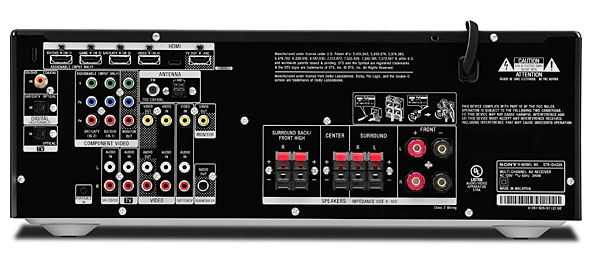 To hit this price point, Sony had to make some serious compromises—for example, eliminating an onscreen display and auto calibration and utilizing lower-grade components such as inexpensive spring-loaded speaker terminals. (An onscreen interface is available with this model when connected with certain Sony TVs.) It only accommodates one complete speaker system and doesn't offer any additional zones. Unlike the latest crop of AVRs, there are no networking features or iPod dock connections. All in all, it's fairly stripped down for an AVR but a significant step up from the electronics commonly associated with home theater in a box (HTiB) systems.
Ergonomics The physical appearance of the STR-DH520 is the first indication that this is an inexpensive product. The chassis is made from a single sheet of metal without any reinforcement. A good whack would easily dent the enclosure. The front fascia is made of inexpensive black-coated plastic. Even the knobs have a lightweight feel. When you pick up this AVR, it's extremely light and lacks the substantive heft of pricier models—and I don't mean ultra-expensive ones, either.
The remote control is designed for use with a variety of other Sony TVs and BD players—about half the buttons seemed to have no function with my setup. I use a Sony PS3 as my Blu-ray player, but it only works with the optional Bluetooth remote and is not compatible with IR-based controllers.
As mentioned earlier, this AVR has no onscreen menu system (except with certain Sony TVs), which is a serious ergonomic drawback.
Setup
I found setup to be less than pleasant. For one thing, my system is already wired with high-grade Straight Wire cables with banana plug terminations. However, since the STR-DH520 uses small spring-loaded terminals for all but the front L/R channels, most of my cables wouldn't work. I wanted the wiring to be consistent, so I had to rewire my entire system with basic bare-wire cables. I had 16-gauge wire on hand, and while I made it fit, these spring-loaded terminals are actually meant for extremely inexpensive small-gauge wire.
This AVR doesn't offer any auto calibration, requiring manual setting of speaker levels and configuration. Fortunately, I've done this enough over the years that I can go with the flow, but I think auto calibration is a must, especially for inexperienced users, to ensure a reasonable setup with little fuss. The manual is confusing on this point—it provides details about auto calibration, but the feature is not available on this particular model when sold in the U.S.
The lack of an onscreen display makes setup quite a bit more cumbersome. Without a visible menu structure, you can either hunt and peck as you try to make your adjustments from the AVRs single-line LCD display or keep the manual close by with its step-by-step instructions for navigating the menus.
Performance
I tested a wide variety of sources, including broadcast TV, Blu-ray, PS3 games, and streaming movies, and I found the overall sound quality to be far better than I expected and quite acceptable. If you don't think you'd appreciate the difference in audio quality in a more expensive model, you'll be pleased with the sonic performance of the STR-DH520. However, even though the rated power is 100 watts per channel (or, as Sony would prefer me to say, 137 watts, the newly rated spec for this AVR), the amp started clipping at a much lower volume than my reference Onkyo TX-SR609 AVR, which isn't to say it can't get pretty loud before that happens. Still, I would recommend the Sony for smaller rooms or dens to ensure you don't overwork the amp beyond its capabilities.
You know a technology is mainstream when even the least-expensive products adopt it. So it is with the STR-DH520, which provides flawless 3D passthrough. If you have all the relevant gear necessary for a 3D theater, this little AVR is ready for action.
I only had one incident that required more time to troubleshoot than it deserved. I was not getting the AVR to indicate when I played a Dolby TrueHD or DTS-HD MA soundtrack. I was initially using my Sony PS3 player (updated for 3D playback), but the PS3 does it's own decoding and only sends PCM. I now remember why I took it out of my main reference system, though it's a great game console.
I pulled a Samsung BD player from my other system, but I continued to get the same results—no indication that the AVR was doing the decoding. After some back and forth with Sony, they insisted I hadn't set the BD player to send undecoded bitstreams. However, after they sent me a setup video, I noticed the AVR in the video was using the input labeled BD/DVD, whereas I had my source device connected to the input marked GAME because I had been using the PS3. I had simply connected the Samsung to the same input. Once I switched to the BD/DVD input, the AVR indicated it was decoding Dolby TrueHD and DTS-HD MA. It never occurred to me this wouldn't work on all inputs. Sony insists that it does, but that was not my experience with the unit they sent me.