Sony KV-34XBR910 34-inch HDTV Monitor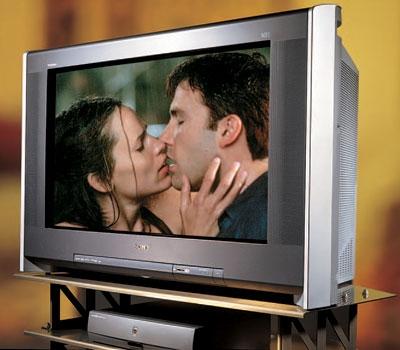 Photos by Tony Cordoza The good old cathode-ray tube (CRT) is up against some stiff competition these days. Leading the charge are sexy flat-panel plasma and LCD TVs that can be mounted on the wall like a picture. Following right behind are DLP (Digital Light Processing) and LCoS (liquid crystal on silicon) TVs, a new breed of rear-projection sets that are so slim their tube-based brothers look like cows in comparison. Given this situation, you'd think TV makers would be ready to put the CRT out to pasture, but that's hardly the case. To judge from Sony's new KV-34XBR910 HDTV monitor, the tube not only has some life left in it, but it's being taken to the next level of performance.
Super Fine Pitch is Sony's tag for the CRT used in its latest direct-view set. The tube's aperture grille - a slotted mask that's used to direct electron beams to the phosphor stripes on the CRT's inner surface - is said to contain 65% more slits than grilles in previous tubes. Basically, the more slits, the higher the resolution. Such tradeoffs usually entail a decrease in brightness, but a new, high-intensity phosphor developed for the Super Fine Pitch tube allows it to deliver fine detail without any compromise in brightness.
FAST FACTS
KEY FEATURES • Widescreen HDTV monitor • Displays native 720p and 1080i HDTV programs • Front-panel Memory Stick slot • Copy-protected DVI input INPUTS/OUTPUTS Front composite- and S-video with stereo audio; Memory Stick slot Rear three composite-video, two wideband component-video, two S-video, and one DVI input, all with stereo audio; two antenna inputs; composite-video output; two stereo audio outputs DIMENSIONS 39 1/8 inches wide, 25 5/8 inches high, 23 7/8 inches deep WEIGHT 198 pounds PRICE $2,499 MANUFACTURER Sony Electronics, Dept. S&V, One Sony Dr., Park Ridge, NJ 07656; www.sonystyle.com; 800-222-7669
This Sony set has a stylish, streamlined "pro monitor" look that will appeal to video enthusiasts. Like many other recent TVs, it has a silver cabinet, but its completely black faceplate frames the screen image and provides visual contrast. Outside of a power button and a slot for inserting a Memory Stick card, pretty much the only features on the front panel are the almost invisible grilles for the built-in speakers. A flip-up panel just below the screen conceals an A/V input and control buttons for navigating menus, switching inputs, changing channels, and adjusting volume.
Inputs on the rear panel include two sets of wideband component-video jacks and a DVI (Digital Visual Interface) input with HDCP (High-bandwidth Digital Content Protection) That means it's compatible with new high-def satellite receivers that are equipped with a copy-protected digital output. Of course, you'll need an external digital tuner to receive HDTV broadcasts.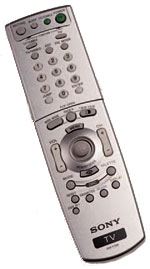 Sony's remote control has a partially backlit keypad and a central joystick for navigating the TV's setup menus or scrolling through digital snapshots stored on Memory Sticks. You toggle through the set's inputs by pushing the TV/Video button (a menu option lets you label inputs with names like DVD and DTV as well as "turn off" unused inputs to streamline the process). And pressing the Wide Mode button lets you toggle through four display options: Full (for anamorphic widescreen DVDs and HDTV), Normal (displays standard 4:3 aspect ratio programs flanked by vertical gray sidebars), Zoom (evenly stretches 4:3 programs to fill the wide 16:9 screen), and Wide Zoom (enlarges the center of 4:3 images proportionally and stretches the outer edges).
Setup of the Sony was a breeze. You can't create a custom setting for each of the TV's inputs, but you can adjust the four picture presets in the set's Video menu and store your changes. Besides Warm, Cool, and Neutral color-temperature selections, the setup options include three settings (plus off) for scan-velocity modulation (SVM), which is intended to enhance the edges of objects. There's also a CineMotion setting that smoothes the display of film-based programs on satellite, cable, or DVD, a process technically known as "2:3 pulldown."
LATEST VIDEO