Sony Announces Pricing, Availability for 4K OLED TVs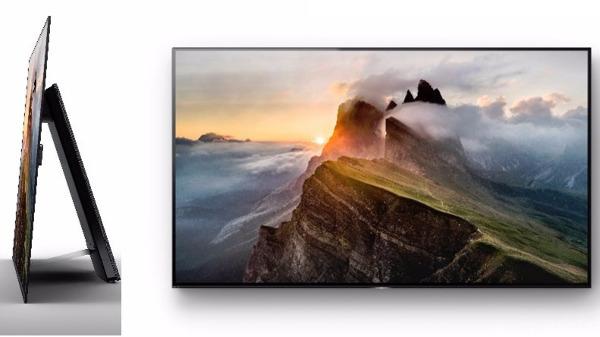 Sony has announced that pre-sales of the 4K OLED TVs it
previewed at CES 2017
begin today at Amazon and BestBuy.com.
The XBR-A1E Bravia line, featuring 4K resolution and high dynamic range (HDR) capability, will be available in three screen sizes starting in April. Pricing for the flagship 77-inch model was not announced but the 55- and 65-inch models will be priced at $5,000 and $6,500, respectively.
All are currently on display at Sony Square NYC, a showplace for the latest in Sony entertainment and technology located in midtown Manhattan.
The new models will be the first big-screen OLED TVs from Sony but do not represent the company's entry into the category. Sony was first to bring OLED to the market in 2007 with the XEL-1, an 11-inch TV that was one of Sound & Vision's Top Picks in 2008.
Since those early days, Sony has continued manufacturing OLED displays for professional broadcast and video production. The displays are used for editing, dallies review, graphics generation, special effects, as well as for broadcast and cinematic production. Sony Professional OLED Master Monitors have been awarded a Scientific and Engineering Academy Award and a Technical Emmy Award for Outstanding Innovation in Engineering Development.
"Our long experience with OLED technology, together with the new 4K HDR Processor X1 Extreme, meant that this was the right time to return to the consumer OLED market," explained Kevin Brinkman, director of product marketing for TV and projectors in North America.
Sony said its 4K HDR Processor X1 Extreme enables non-HDR content to be improved to near 4K HDR quality with object-based HDR Remaster technology that detects, analyzes, and optimizes each object in the picture to improve overall contrast, while its Triluminos Display technology maps colors for a wider pallet and Super Bit Mapping creates a smooth, natural picture without banding.
Sony has developed a new Acoustic Surface sound technology for A1E series TVs that emits sound from the screen itself—possible because there is no backlighting mechanism due to the self-illuminating nature of OLED. The surface sound scheme also makes possible an edge-to-edge screen design by doing away with conventional speakers usually located to the sides or below the TV. The system's subwoofer and cabling is concealed in the easel support provided with the new TVs; the support can be folded in against the TV for wall mounting.
A1E series TVs support all three HDR formats: HDR10, Dolby Vision, and HLG, which will be available via a firmware update due out by the end of the year. All are powered by Android TV, which provides easy access to movies, TV shows, and thousands of apps, including Google Play, Amazon Video, YouTube, Netflix, and PlayStation Vue, an Internet-based live TV streaming. 4K HDR movies can be streamed directly to the TVs via the ULTRA app from Sony Pictures Home Entertainment.
The TVs also support the Google Assistant, a voice-controlled system akin to Amazon's Alexa that can provide (internet-based) answers to questions and control devices around the home.
For more information, visit sony.com.
LATEST VIDEO