Sonance Sonamp 275 SE Stereo Power Amplifier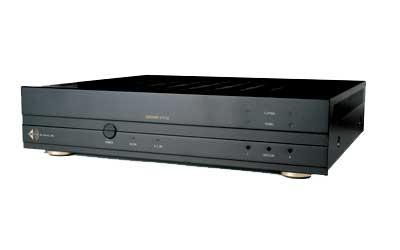 The Short Form
$600 / 16.75 x 15.25 x 3.875 IN / 24 LBS / sonace.com / 800-582-7777
Plus
•Simple to use •Transparent sound quality •BBE clarity-enhancement module
Minus
•Pricey
Key Features
•Rated 75 watts x 2 (8 ohms) •BBE Sound Enhancement module •Auto-on with adjustable threshold control and turn-on delay •Defeatable high-pass (low-cut) filter
The Sonance Sonamp 275 SE stereo power amplifier is intended to drive a pair of speakers in a remote room of a multiroom audio system. But along with its 75-watt-per-channel power rating, it incorporates a twist: a plug-in module that provides BBE Sound Enhancement.
BBE processing has been used for years in pro audio and public-address systems. It uses a bag of signal-processing tricks to achieve what's said to be clearer sound, especially at soft background listening levels and from locations other than the sweet spot between the speakers. Makes sense - that's exactly how many multiroom audio systems are used. BBE can be activated and its level selected via rear-panel switches or remote triggers.
PERFORMANCE The only issue that really counts in a power amp is its ability to transparently amplify the signal up to its rating. Starting with BBE turned off, I listened to the terrific R&B album Seal IV. Seal's vocals are expressively sung and recorded; on "Love's Divine," his vocal begins close-miked and intimate, and then reverberation kicks in to give it an ethereal feeling. This and other details were clearly reproduced through both conventional box speakers and in-walls. I have no doubt of the Sonamp 275 SE's acoustic transparency.
I repeated my audition with BBE switched on, listening for an improvement in clarity. And it was there - with caveats. Vocals as well as high-hat cymbals and other treble-heavy instruments had greater articulation, and the bass line had more punch, too. This is because, among other things, BBE boosts treble and bass by up to 9 dB relative to midrange sounds at 1 kHz. When I listened to in-wall speakers that had rolled-off bass and treble, particularly at low volumes or from off-axis positions, sound quality was definitely improved.
On the other hand, when listening head-on to good bookshelf speakers or floorstanding towers and a sub, particularly at loud volumes - a situation the Sonamp 275 SE wasn't designed for - these aggressive boosts degraded sound quality. The tonal balance was "hyped" with boomy lows and edgy highs - fun for the first few minutes, but then distinctly tiring.
BOTTOM LINE If you need some muscle in your system, the robust Sonance Sonamp 275 SE power amplifier will provide it. And the addition of BBE, while not an earth-shaking plus, can deliver an audible improvement in clarity for background music.
LATEST VIDEO