Sidney Harman 1918–2011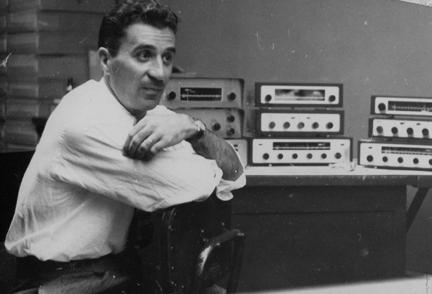 Most recently, he was known as the executive chairman of the merger between Newsweek magazine (which he bought last year) and The Daily Beast.
But the readers of Sound+Vision — and before that, Stereo Review, Hi/Fi Stereo Review, Hi/Fi Review, and HiFi & Music Review, along with Audio and High Fidelity — have always known him as an audio pioneer.
Sidney Harman died last night at the age of 92.
The photo above shows him circa 1955 — just 2 years after he co-founded Harman Kardon (with Bernard Kardon) and 3 years before the first issue of what is now S+V.
Raise a volume knob in his honor!
Some links:
Obituary in The New York Times
A tribute by Jonathan Alter of Newsweek/The Daily Beast
And some thoughts from our editors and contributors:
"As a founder of Harman Kardon — the company that introduced the world's first receiver, the Festival D1000 — Sidney Harman helped bring hi-fi into the modern era and make it more accessible to a broad base of consumers."
— Al Griffin
"I don't think there's anyone else who has had as much impact on the audio business as Sidney Harman. His career went all the way back to the birth of hi-fi in the 1950s, and he was just as big a player in pro audio as he was in consumer audio. All the Harman International products I've bought in the last 35 years would literally be enough to fill a suburban house."
— Brent Butterworth
"Where would consumer electronics be today if Sidney Harman hadn't left Bogen in 1953 to forge ahead into uncharted hi-fi gear territory? With Bernard Kardon he produced the first integrated amplifier, on his own he engineered the first stereo receiver — and that's just for starters. A true audio innovator, he will be sorely missed. Sound+Vision extends its collective condolences to his family and to Harman International."
— Mike Mettler
LATEST VIDEO