Show off the knots for ZVOX's Ugly TV Contest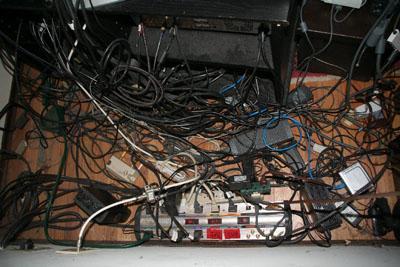 This is really the perfect contest for readers of Sound & Vision. ZVOX, makers of the Z-Base 550 sound bar, has just announced the "Ugly TV Contest."
ZVOX is offering a free Z-Base 550 system to the home theater owner with the biggest wire jungle behind their system. If you have a tangled mess of cables behind your HDTV (and, one would assume, your receiver and many playback devices), send a photo of it to info@zvoxaudio.com for a chance at the soundbar.
The contest is obviously meant to highlight the simplicity of a one-piece system like the Z-Base 550 over a complex 5.1 surround set-up. Of course, some would argue that the cable jungle is a necessity, and one of the indicators of a true home theater lover. Either way, at the very least the contest could net you a soundbar for your bedroom TV, even if you want to keep your massive sea of wires.
— Will Greenwald
LATEST VIDEO
WHERE TECHNOLOGY BECOMES ENTERTAINMENT