Sharp XV-Z2000 DLP HDTV Front Projector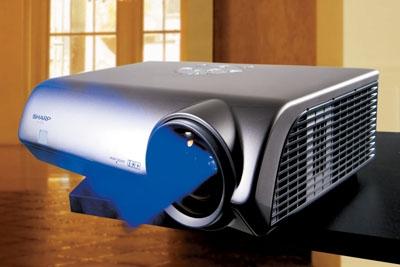 For some time, I've been perplexed by the huge price gap between HDTV and EDTV Digital Light Processing (DLP) front projectors. It just never added up that models with Texas Instruments' high-definition 720p (progressive-scan) display chip, most of which cost $8,000 or more, should be priced so much higher than their enhanced-definition cousins costing $1,500 or less. Adding to the mystery was the presence of high-def LCD projectors selling for three grand that gave the more expensive DLP models a run for their money. The gap was obviously waiting to be filled, so it came as no surprise when Sharp stepped up with its $4,500 XV-Z2000.
Unlike Sharp's more expensive DLP HDTV front projectors, the Z2000 doesn't offer a gazillion picture adjustments, but it has all the basics you'll need for big, bright, satisfying high-def pictures. The compact projector has a front height adjustment and two rear adjustment feet for tabletop setup. Its vertical and horizontal offset and keystone controls help with tricky ceiling installation issues (a ceiling mount is optional). Controls on the top panel include buttons to navigate menus and tweak the motorized zoom and focus. Inputs on the back panel include two sets of component-video jacks and a DVI connector that you configure for a video or computer hookup via a toggle switch.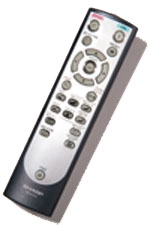 The remote control's keypad isn't backlit - a surprising lapse for a front projector - but the buttons are plenty big enough, and they glow in the dark. The clean layout provides six centrally located direct-input buttons for switching sources. Other useful controls include an Iris button, for switching between the High Brightness and High Contrast modes, and a Resize button, which lets you switch between the four display modes, but only for standard 480i (interlaced) and 480p programs.
Setup When paired with a 100-inch diagonal screen - an average size for home theater - the Sharp's 1.5x zoom lens gives you a setup range of about 8.5 to 13 feet from the projection surface. For my viewing, I set it up on a table 13 feet from a 105-inch (diagonal) Da-Lite High Contrast Da-Mat screen. Setup menu options include six color-temperature and four gamma presets, Standard and Eco lamp modes (the latter sacrifices a bit of brightness in favor of longer lamp life), and the High Brightness and High Contrast iris adjustments. In addition to a default custom memory for each video input, the Sharp can store five other custom picture settings.
The projector's 6500K color-temperature preset turned out to be pretty much on the money. I only needed to slightly tweak the red and blue settings in the picture menu to get the color close to where I wanted it to be (see "in the lab" for details). Fan noise with the Standard lamp setting was loud enough to be distracting. The Sharp's comparatively quiet Eco mode proved a much better choice; it slowed the fan speed while still delivering bright pictures. Other settings I chose were Standard gamma and the High Contrast iris mode, which delivered deeper blacks for movies. Watching less finicky fare like sports or TV shows, I liked how the High Brightness mode gave the picture extra punch - which helps if you have ambient light leaking into the room from a window or lamp.
LATEST VIDEO