From Sharp minds come large products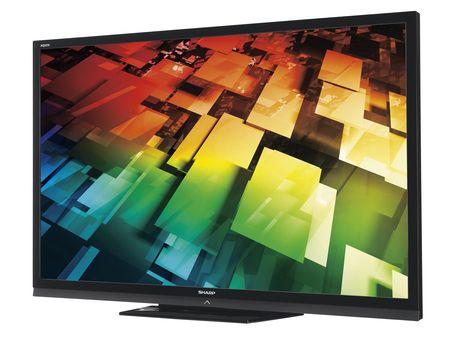 Sharp yesterday announced a new line of 70" Aquos Quattron LED-backlit LCD TVs, responding to market research indicating that their target market of 35 to 45 year old men-even those already owning 60"-plus sets-felt a "need to go bigger." The new LC-70LE732U (shipping now at an MSRP of $3,799) is truly immense; the launch event-also a fundraiser for Japan earthquake/tsunami relief-featured the 70" Aquos obscured by piles of 32" and 19" sets. True to Sharp's mysterious pre-event promise that the product would defy words. the company introduced it along with a new crop of descriptive terms: "spectacularge" and "viewmongous" among them. "Ginormous" must have lost its luster after gaining entrance to Webster's.
The set offers what you'd expect from a contemporary large TV: 1080p, built in Wi-Fi connectivity, apps via Vudu, streaming video from Netflix, CinemaNow, Alphaline, and-surprisingly-Blockbuster (which Sharp expects will stay around as DISH's video on demand brand). A myriad of modes for various lighting situations and uses are on tap; for those who find such things confusing the TVs will be supported by Sharp's free remote concierge service, which lets Sharp techs in Chicago monitor your settings (not your content stream, so relax) to offer personalized setup assistance.
This being a Sharp product, there's of course a yellow pixel onboard.
This set will be followed over the next couple of months by two 70: siblings: a 240 Hz version (the 70LE732U runs at 120 Hz) and, more interestingly, a 3D set to appear sometime in July.
The 70" LCD panel itself is built at Sharp's new Sakai City plant, so last week's news that Sharp has suspended production at its Osaka and Mie plants shouldn't make you worry about product availability.
It's a pretty striking piece of equipment, once you get over the sheer size-the image looked nice and contrasty with impressive blacks, at least so far as I could tell in the showroom environment (Sharp product manager Tony Favia mentioned that their goal was to compete with better plasmas on that front)-so check it out if you need to conceal a huge blank wall, or don't mind displacing a few prized possessions.
- Michael Berk
LATEST VIDEO