Sharp LC-52XS1U-S 52-inch LED LCD HDTV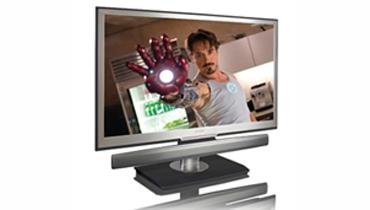 The Short Form
$12,000 / SHARPUSA.COM / 800-237-4277
Snapshot
Sharp's new LED-driven LCD delivers staggeringly deep blacks in a ridiculously sexy package, but it's not without its caveats
Plus
• Amazingly dark blacks • Unique super-thin styling
Minus
•Washes out bright highlights on some scenes •White balance is slightly blue
Key Features
• 1,920 x 1, 080-pixel resolution • LED-driven backlight • Two-piece design • (5) x.v.Color-compatible HDMI inputs • Pioneer-designed speaker system • Ethernet port for Sharp Aquos Net • Inputs: (5) HDMI; ( 2) component-, (3) composite-, and (2) S- video ; RF antenna , RGB computer w/miniplug stereo audio , RS232C, Ethernet , and USB (for firmware updates) • TV: 49 x 34½ x 2¼ in, 94¾ lb • AVC: 17 x 2¾ x 2½ in, 8½ lb
Sharp's history as an LCD-technology innovator means you can expect big things from the company, whether it's a giant 108-inch flat-panel or, in this case, the firm's first LED-backlit model, the $12,000 Special Edition 52-inch LC-52XS1U. LED arrays are now the backlight of choice for high-end LCDs because they allow "local dimming" in parts of the image that call for deep black. Turning the backlight down or off in these areas keeps stray light from leaking through the LCD pixels, reducing contrast. But Sharp has pushed performance even further by using separate red, green, and blue LEDs instead of white light, a move intended to render truer, more saturated colors.
The LC-52XS1U is the classiest, sexiest, smartest-looking flat-panel TV yet. The brushed-stainless-steel bezel surrounded by black trim puts it in another league from its black-plastic brethren. Below the screen are flat membrane control buttons, and below that is a Pioneer-branded speaker system housed in a matching brushed-stainless-steel pod. The TV's input jacks and most of its processing circuitry are in a standalone component called the AVC (shown below) that feeds the display by way of an HDMI cable or an optional wireless HDMI kit. This allows the panel to be super-thin -- just 21?4 inches deep at its max, and about an inch deep at the outer screen.
The AVC has a gloss-black front panel set off by a stainless-steel door that swings down to reveal a convenience jack-pack with both an HDMI connection and an A/V input with component-,composite- and S-video jacks. Around back, you'll find four more HDMI inputs along with an RGB computer input, an RS232C port, and an Ethernet port (for accessing Sharp's Aquos Net Web services).
The Sharp's universal remote looks great, and most of its buttons are comfortably positioned. A display near the slim wand's top shows which component the remote is set to control, but there's no backlighting other than for the display, and the View Mode key for toggling among aspect-ratio modes is buried beneath a flip-down door. You change inputs by scrolling from a menu accessed through the input key or by toggling the input key repeatedly.
SETUP
Watching a high-definition cable channel on the LC-52XS1U, I was awed by how dark the TV's blacks were. But switching to the Movie picture preset (normally the best preset option with most TVs) caused skin tones to look excessively red.
The Sharp's video menu lets you fine-tune color with saturation and tint controls for all the primary (red, green, blue) and secondary (yellow, cyan, and magenta) colors. So, after choosing the User picture preset, the settings for which can be adjusted independently for each of the TV's inputs, I tweaked the set using test patterns and program material to make the colors look more natural.
The color temperature was slightly above the neutral-gray 6,500-K standard with the Low setting active (see Test Bench). Unfortunately, the TV's fine-tune adjustments for color temperature proved unable to correct it. This wasn't the end of the world, but it would have been better to achieve the more neutral gray we routinely strive for during testing.
LATEST VIDEO