Sharp Aquos LC-52D62U 52-inch LCD HDTV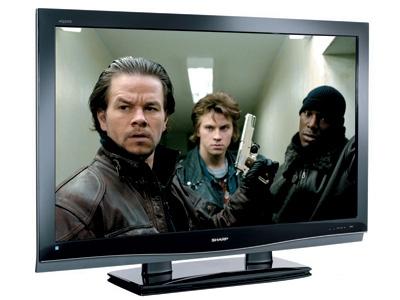 Perhaps the only thing better than a flat-panel TV is one with full 1080p resolution. But to appreciate the incredible detail such a TV can provide from a comfortable seating distance, you need to go bigscreen -in my book, that means 50 inches and up. Plasma TVs filling that bill start at a whopping $8,000. Fortunately, there are other 1080p options, including the new Sharp Aquos LC-52D62U 52-inch LCD HDTV that streets for around half that price.
The LC-52D62U packs a revamped Sharp panel, among the first to come out of a new factory in Japan. Sharp claims it has a fast 4-millisecond response time, higher contrast ratio, and a wider viewing angle than previous models. And its enhanced backlight is designed to deliver richer reds - something I could see immediately upon powering up the set.
The LC-52D62U's spiffy looks also grabbed my attention. A thin, gloss-black bezel surrounds the screen, and the set is propped up by a matching black stand. A silver grille concealing the speakers slopes gently across the set's bottom - an elegant design touch. A few control buttons are located way up on the TV's top edge. There are no front- or side-panel convenience inputs, but the jacks around back are near the edge for easy access. Connections include 1080p-capable HDMI inputs and component-video inputs (two each) and an RF jack.
Sharp's generous-size remote control has a clean layout and a backlit keypad for finding buttons in the dark. Good thing, too, since important controls such as Input, View Mode (aspect ratio), and one for selecting video presets are scattered randomly. The Input button calls up an onscreen menu showing only the active inputs, which can be assigned names and toggled through or selected with the arrow keys. The View Mode button switches among Stretch (16:9), Smart Stretch, Zoom, and Dot-by-Dot (1080i/p signals only) for high-def programs. For standard-def, there's Sidebar (displays 4:3 pictures with black side panels), Stretch, Smart Stretch, and Zoom.
LATEST VIDEO