The Secret Life of Pets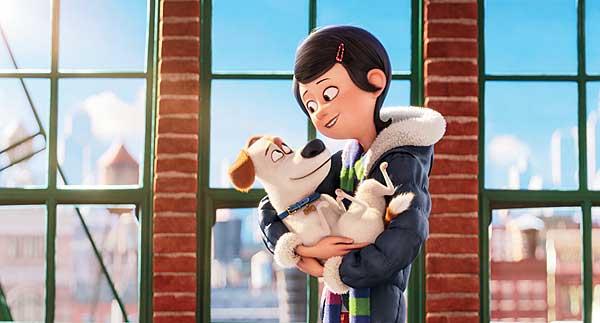 Soon they're absconded by a gang of strays led by Snowball, a fluffy, white, deranged bunny rabbit. (He's obviously related to the psychotic bunny in Hoodwinked.) Snowball is obsessed with leading a revolution to liberate domestic animals, describing his gang as "like a club, but with bitin' and scratchin'. " While Max and Duke attempt to break free of their captors, their friends, led by the white poodle Gidget (who's carrying a torch for Max), set out to find them.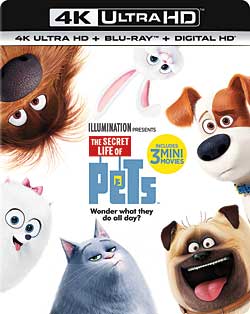 A few scenes might be a bit much for the youngest audiences, particularly sequences involving a scary hawk and Snowball's lair in the city sewers. But nothing here is as intense as what you'll find, for example, in Kubo and the Two Strings. Most viewers, particularly dog lovers (cats and bunnies don't fare as well!) are sure to find the film endearing and often very funny.
The Ultra HD transfer is gorgeous, with crisp resolution and bright colors, but the disc's high dynamic range (HDR) wasn't a particular standout. Animated films are often brightly lit throughout, offering relatively few opportunities for the crown jewels of HDR, luminous highlights and deep blacks, to make their mark. But the picture, overall, does have a lot of punch—a bit too much, in fact. In a darkened room, I had to back off considerably on my display's Contrast control.
While I didn't review the Dolby Atmos sound on the disc, the TrueHD 7.1 core soundtrack overall is exceptionally punchy and clean. The music score is also terrific, featuring orchestral cues, jazz, and hilarious use of pop songs. A sequence in a sausage factory was a highlight, with... uhh, sorry, no spoilers here.
The extras, all of them on the standard HD Blu-ray Disc, include several short making-of features and three mini-movies. Of the latter, "Norman TV" was excellent. The others, one of them featuring a Minions mini-adventure, were surprisingly laugh-free.
While it's not as inspired as other films from Illumination Entertainment, the animation house that gave us Despicable Me, The Secret Life of Pets is nevertheless a lot of fun.
Blu-Ray
Studio: Universal, 2016
Aspect Ratio: 1.85:1
Audio Format: Dolby Atmos / TrueHD 7.1 core
Length: 87 mins.
MPAA Rating: PG
Directors: Chris Renaud, Yarrow Cheney
Starring: Louis C.K., Eric Stonestreet, Kevin Hart
Max is living a great dog's life. But one day his owner brings home Duke, a huge, stray shaggy-dog from the pound. Duke makes himself at home, much to Max's chagrin. But one day, when the apartment house's loopy dog walker is distracted, both Max and Duke get into a tussle, break free, and end up lost in New York.