Scanning High-Def: Stanley Kubrick on Blu-ray Disc and HD DVD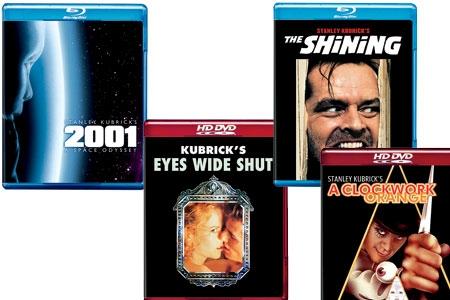 For standard DVD, Warner has collected five Stanley Kubrick classics in a Directors Series box - but on Blu-ray Disc and HD DVD, they're only available individually. Full Metal Jacket was released in high-def previously, so I'll stick to the four debuts.
The unexpected high-def pleasures in the restored images and sonics of 2001: A Space Odyssey (1968; Movie ••••½, Picture •••••, Sound ••••, Extras ••••) amount to experiencing the film anew. Thus Spake Zarathustra comes washing over you in clear, powerful waves, the timpani pounding your chest. Landscapes have a three-dimensionality to them, and our ape-ancestors' faces have a roundness and texture. When we jump to the beautiful space-station sequence, the 2.20:1 images are clean, bright, and detailed. Colors, like the rich red seats and space suits, stand out crisply from their bright white backgrounds. The HD DVD's Dolby TrueHD and the Blu-ray's PCM 5.1 soundtracks are nearly identical, the PCM perhaps a tad louder, and this is the case with all the Kubrick titles reviewed here. The VC-1-encoded transfers for both formats are also virtually indistinguishable.
It's nice to finally see Eyes Wide Shut (1999; Movie ••••, Picture •••½, Sound •••½, Extras ••••) with all that naughty nudity uncensored. There's quite a variety in the contrast and overall image quality of different scenes, and these artistic differences become more striking and communicative in the 1.78:1 high-def transfer. With The Shining (1980; Movie •••½, Picture ••••, Sound •••½, Extras •••½), you can almost run right down those corridors, and there's a solidity to the figures lurking in them. The 1.78:1 images have crisp colors, even in the painfully busy hotel carpets. A Clockwork Orange (1971; Movie ••••, Picture •••½, Sound •••½, Extras ••••) has good contrast in its 1.66:1 picture, with deep blacks, bright highlights, and popping pop-art tones. As with all these sound­tracks, the 5.1 mix immerses you in great music (here, the glorious Ninth from Ludwig van) but otherwise doesn't use the surrounds much.
After almost no extras on the Kubrick DVDs of 6 years ago, these releases make amends. All except Eyes have a commentary and many documentaries. The best 2001 extra is an 80-minute audio interview with Kubrick from 1966, while Clockwork has a wonderful 90-minute documentary (in high-def) on actor Malcolm McDowell.
more Entertainment reviews Back to Homepage What's New on S&V
LATEST VIDEO