Scanning High-Def: Open Season Blu-ray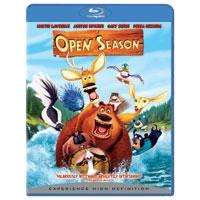 Open Season (Sony). This Blu-ray Disc's picture, shot digitally in high-def and authored with MPEG-4 compression, is incredibly three-dimensional and realistic. Boog the bear's fur looks like you could reach out and stroke it, and other objects look extremely solid. A lot of this comes from the amazing amount of detail in images and the wide range of rich tones that together reveal the intricacy of the animation.
The uncompressed PCM 5.1-channel sound is very clear, with good placement of effects. The use of the surround channels kicks into high gear about halfway through the movie, when the dam explodes. You'll be impressed by the bassy roar of surf and the sound of gunfire flying all around.
Extras include a short film starring Boog and his friend Elliot, a 15-minute featurette with the animators (who sound genuinely enthusiastic rather than coming across like a PR team), and a fun 7-minute featurette on the voicing of the characters. Also here (if less interesting): a walk-down-memory-lane commentary by members of the creative team, 1-minute faux commentaries by three minor characters from the movie, a multi-angle feature that shows you four stages in the creation of a character, and three Easter eggs revealing deleted scenes and animated pre-visualizations.
more Entertainment reviews Back to Homepage What's New on S&V
LATEST VIDEO