Samsung's Bread and Butter HDTV - With Some Jam on Top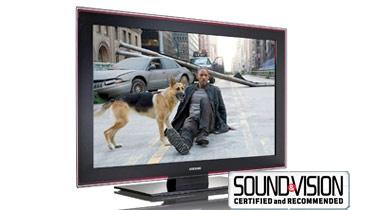 The Short Form
$2,400 ($2,799 list) / SAMSUNG.COM / 800-726-7864
Snapshot
Samsung's latest LCD delivers solid HDTV picture quality and some innovative features
Plus
• Very good high-def picture • Excellent backlit remote • Good sound quality for a flat-panel TV • Cutting-edge features for accessing ancillary content
Minus
• Standard-def images can look soft • No aspect-ratio button on the remote
Key Features
• 1,920 x 1,080 resolution • InfoLink RSS feeds from USA Today • WISELink Pro Content interface • Onboard Content Library • DLNA compatible • xvYCC-compatible • Motion-touch backlit remote • Inputs: 4 HDMI ; 2 component-, 1 composite-, 1 S-video; RF antenna; RGB PC (plus PC audio in); USB 2.0; Ethernet LAN • 46 x 30 x 11 3/4 in (with stand); 64 3/4 lb (with stand)
Compared with the LED-backlit LN-T4681F set I reviewed back in January, the fluorescent-backlit LN46A750 is clearly intended as more of a "bread and butter" set in Samsung's lineup. But the company has spread a little jam on top by packing this 46-inch LCD HDTV with some unusual features.
Among these is the ability to wire the set to your home network with an Ethernet cable to enjoy feeds from USA Today for weather, news, and stock-market data. Hit the InfoLink button on the remote, and you can make one or all of these pop up in small boxes around the screen. This worked flawlessly, and having instant access to local weather proved a nice boon.
Also, the Samsung adheres to the new DLNA (Digital Living Network Alliance) technical standard, and it comes with software you can load onto your PC to stream video, photos, or music from your computer to the TV. And pressing the Content Library button on the remote calls up an attractive onscreen menu that taps into a trove of material permanently loaded into the TV's memory. This includes slide shows, recipes, some basic games, some children's activities, and a Fitness section with stretches you can do if you ever decide to get up from your armchair.
Samsung has crammed all this stuff into a nice-looking package. The LN46A750 follows the company's Touch of Color styling, which adds a subtle red tint to the plexiglass base and the translucent bezel that surrounds the screen. But it's the bezel's clear, beveled edges that give this design some distinction. Another nice touch is the clean front, made possible by hiding the main speakers under the screen, facing down; two more speakers project from the TV's upper back. Surprisingly, this arrangement delivered robust sound for a flat-panel TV, particularly with the TruSurround XT circuitry turned on. Further contributing to the clean look is the heavily camouflaged touchpanel on the front bezel, which has buttons for power, source, and menu as well as rockers for channel and volume.
Previous Samsung remotes were slim wands that were awkward to hold. But this year's beefier design is shaped and weighted for comfort. The usual four-way navigation buttons have been replaced by a clever click-wheel that's perfectly placed for your thumb, and the whole thing glows in the dark from a motion-activated backlight. Well done! But I do have a couple of nits to pick. There's no dedicated button for the aspect-ratio function, which instead has to be accessed from the Tools menu. And though the high-gloss black finish looks beautiful, it attracts and retains fingerprints.
LATEST VIDEO