Samsung UN46C8000 3D LED HDTV and BD-C6900 3D Blu-ray Player
The TV that Samsung sent me was its UN46C8000 LED model. Should you, too, decide to live on the edge and view 3D video, two additional things are required: a 3D source and a set of 3D glasses. Sources include 3D Blu-ray Disc players, DirecTV (scheduled to go live in June), certain cable TV providers, and PCs outfitted with special graphics hardware that outputs 3D video. (A recent firmware update to Sony's PS3 also enables it to play 3D games, although no such titles are available yet.) Samsung doesn't include glasses with its TVs, but it sells a battery-powered version as a $149 accessory. (A $199 rechargeable USB model is forthcoming, along with a kids-style USB version for $179.) To get me rolling, Samsung sent a 3D Blu-ray player and the BDC6900 ($400), along with a 3D starter kit containing two pairs of glasses and a copy of the movie Monsters vs. Aliens, the lone available 3D Blu-ray Disc at presstime. (Samsung is running a promotion through June where the kit — a $350 value — comes free when you buy one of its 3D TVs and a 3D Blu-ray player.)
In addition to being a 3D wonder (danger?), the UN46C8000 is about as feature-packed a TV as Samsung makes. It has a 240-Hz refresh rate and is the first edge-lit LED set to incorporate "local dimming" processing. (Samsung's label for the process is "Precision Dimming.") Two adjustments are on tap to enhance picture clarity when viewing fast-motion content like action movies or sports. The first adjustment, Auto Motion Plus, provides presets to clear up motion blur on video- based programs and judder on film-based ones, and it also has a custom mode with independent blur- and judder-reduction adjustments. The second, LED Motion Plus, also combats blur by rapidly blanking the LEDs in various screen areas depending on the selected preset.
The Widgets assortment on Samsung's new connected TVs (the company now calls these Samsung Apps) is pretty vast and includes heavy hitters like Netflix, Vudu, and Pandora. (For a more complete list, see Key Features at left.) Samsung developed its own custom screen to access Internet content, and the interface is well organized and easy to navigate. Furthermore, a Samsung App store will offer additional content for download when it ramps up later this summer.
The silver bezel surrounding the screen of Samsung's UN46C8000 gives it a striking appearance. I can't say I love it, though: My own preference is for a darker bezel, which helps to offset the picture. The set's swiveling four-legged stand is surprisingly solid for such a spindly thing. But with the Samsung TV measuring only 0.9 inches deep, it would be a shame to do anything other than wall-mount it.
Samsung's new remote design seems right from an evolutionary standpoint, but it was difficult to work with in a dark room and I soon found myself waxing nostalgic for rubbery, raised buttons.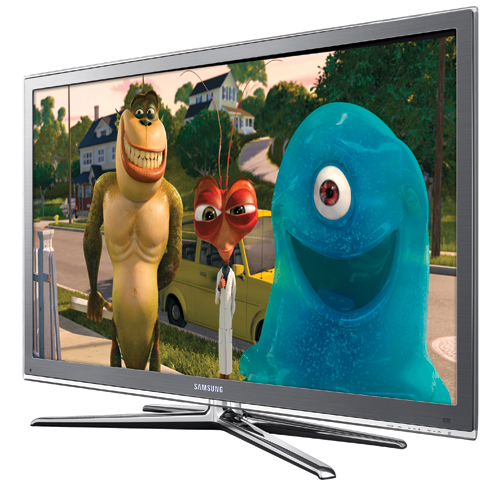 The UN46C8000 offers sufficient video connections, including four HDMI jacks and component-video and RGB PC inputs. One side effect of its remarkable slimness is that most connections, HDMI excepted, require adapters (included) that dangle down from the set's backpanel input section. Samsung's remote control is a new creature altogether: a long, slablike wand with a flat, touch-sensitive surface and no physical buttons. Pressing a light bulb icon at the top illuminates all controls. A few key ones are bordered by Braille-like markings, which helps somewhat to access them in the dark by feel alone.
With a transparent top that provides a window for staring at discs bathed in blue light, Samsung's BDC6900 Blu-ray player is a striking thing to behold. Along with 3D/Blu-ray, DVD, CD, and AVCHD disc playback, it can handle MP3, WMA, DivX, and MKV files on disc or on a USB stick plugged into its front-panel slot. It has builtin Wi-Fi networking and 1-GB local storage for BD-Live downloads, and can play audio, video, and photo files from a networked PC via its AllShare function. The BDC6900' s Samsung Apps media streaming options, meanwhile, pretty much mirror those found on the TV.
LATEST VIDEO