Samsung LN-R408D 40-inch LCD HDTV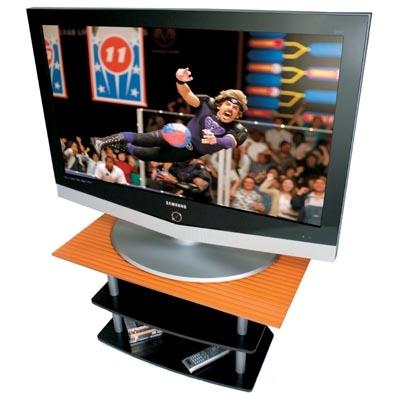 What We Think
A stylish TV at an affordable price, but it's better for watching talk shows in daylight than movies in the dark.
LCD technology is something TV makers want you to take seriously, and to prove they're not kidding, they've packed it into just about every type of set, including front-projection, rear-projection, and flat-panel models. Of those three, it's the last kind that's really heating up - 40-inch and larger flat-panel LCDs are finally starting to give plasma TVs some competition. With more than 15 new models and a new factory dedicated to the category, Samsung is bullish on LCD. The 40-inch LN-R408D ($2,600) is one of its largest, so we decided to take a look.
Even when not mounted on the wall, your flat-panel TV is bound to be a conversation piece, so it's got to look good. With a glossy black frame that flares into a triangle at the bottom and includes a thin silver grille over the speakers, the LN-R408D has that angle well-covered. A large, disc-shaped power button is centered below the screen, while other controls like volume, channel, menu navigation, and source select are on the side. A silver-toned, non­swiveling base is included. The one important thing missing is a front- or side-panel A/V input for a camcorder or game console, and I'd also have liked to see a memory-card or USB input for viewing digital photos.
Around back, the Samsung offers a good selection of inputs, including HDMI, component-video, and VGA-style PC connections. Strangely, a minijack audio output for headphone listening is also located here - nice thought, but talk about inconvenient! Samsung's remote control isn't backlit, but finding the button you want in a dark room won't be a problem thanks to its simple, clear layout. To switch inputs, just tap the Source button - the TV automatically ignores unused inputs, quickening the process. And to select Display Modes, open the slide-down door at the bottom and hit the P.Size button. The options include 16:9, 4:3, Panorama, Zoom 1, and Zoom 2 for standard programs, just 16:9 and 4:3 for HDTV.
SETUP The Samsung's Plug and Play option (found in the Setup menu) eases you through channel setup once you connect an antenna or cable line. After I plugged in my RadioShack antenna and selected the Air and Start options, the Samsung quickly found all the digital broadcasts in my area. I used the onscreen digital signal-strength meter to fine-tune antenna placement for the strongest reception. One outstanding thing about this TV is its electronic program guide (EPG), which pulls data from digital channels and presents it onscreen in a well-organized grid with program titles and descriptions spanning 12 hours ahead. I actually found the Samsung's EPG preferable to the one provided by my cable company.
Setting up the Samsung's picture wasn't nearly as trouble-free. A Custom picture preset is available for each input along with three additional presets - all of them can be modified and stored with your changes. However, when I selected the Warm 2 Color Tone preset - the one that delivered the most natural-looking overall color of the four choices - darker parts of the picture still had a strong greenish tint that I couldn't remove with any user controls. The set's My Color Control user menu also wasn't much help in removing a reddish skin cast - an effect that showed up regardless of which Color Tone preset I selected. The green tint disappeared only after I calibrated the set with the service-menu controls, though the red cast could only be tamed by turning down the color control, which slightly desaturated other colors as well.
LATEST VIDEO